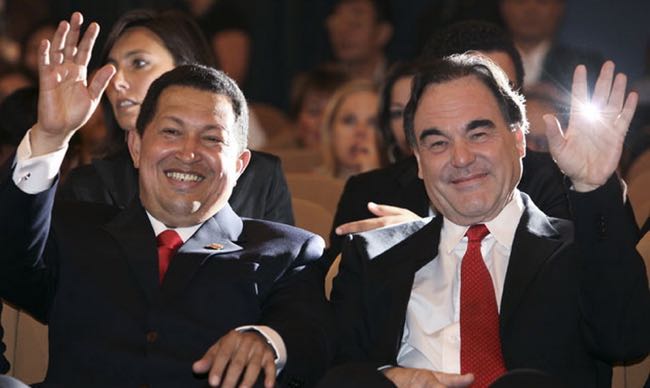 By Ray Bennett
VENICE – Good humored, illuminating and without cant, Oscar-winning director Oliver Stone's documentary "South of the Border" is a rebuttal of what he views as the fulminations and lies of right-wing media at home and abroad regarding the socialist democracies of South America.
Featuring interviews with seven national leaders who all express great affection for their neighbors to the north if not for historical United States foreign policy, the film suggests a clear way forward for a continent that has largely shaken off the grip of imperialism and what Stone calls predatory capitalism as opposed to benign capitalism.
Greeted with extended applause at its Venice press and industry screening, the film will fare well internationally and will attract liberal audiences in Stone's homeland. Conservative outrage could also spark wider interest and it should thrive among educators and have a long ancillary life.
Clips from CNN and Fox News establish quickly the buffoonish tone with which news about South American politics is usually treated with democratically elected leaders invariably depicted as dictators, but Stone also indicts the network news and media institutions including The New York Times.
Following a brief history of the events in Venezuela that led to the presidency of Hugo Chavez (pictured with Stone, the filmmaker shows how the media in that country altered film of violent demonstrations to show his supporters firing on their opposition and how those images were fed to the rest of the world. He details similar exaggerations in other countries and quotes facts and figures from each region.
His cameras follow Chavez, who was born in poverty, to the place of his childhood and on trips to a cattle farm and a plant that produces flour with help from Iran. On the way there, Chavez tells the director, "This is where we're building the Iranian atomic bomb." There is similar black humor from other leaders with Rafael Correa of Ecuador saying of the U.S. media, "I'd be more worried if they spoke well of me."
The expressed view of the fraternal leaders is that they want independence and equality, and freedom from the International Monetary Fund and U.S. economic control. They all see in President Obama the opportunity for lasting, mutually beneficial change.
Stone is clearly impressed with the leaders he meets and there are many relaxed scenes including one in which he gets a great kick out of Bolivian leader Evo Morales showing him the best coca leaves to chew, a benign cure for the nauseous effects of the altitude in La Paz.
Venice International Film Festival, Out of Competition; Director: Oliver Stone; Writers: Oliver Stone, Tariq Ali; Directors of photography: Albert Maysles, Carlos Marcovich, Lucas Fuica; Music: Adam Peters; Editors: Alexis Chavez & Elisa Bonora; Producers: Fernando Sulichin, Jose Ibanez, Rob Wilson; Executive producers: Chris Hanley, Juan Riva, Serge Lobo; Production: Pentagrama Films, New Element, in association with Good Apple; Not rated; running time, 78 mins.
This review appeared in The Hollywood Reporter.