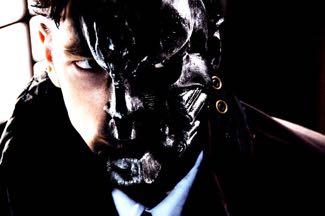 By Ray Bennett
VENICE – Japanese filmmaker Shinya Tsukamoto shows what a "Transformers" movie would be like on a shoestring budget with "Tetsuo the Bullet Man", which features a man whose mother was an android and whose half-human half-machine body comes to sprout an arsenal of fearsome weapons.
Box office is likely to be restricted to fans that were taken with Tsukamoto's original "Tetsuo", which came out 20 years ago with a sequel three years later.
Screened in competition at the Venice International Film Festival, it does boast some impressive editing to obscure the cheesy effects and masks, and it has an ear-splitting sound design of howling industrial noise.
Erik Bossick plays the unfortunate individual whose scientist father (Stephen Sarrazin) not only turns him into a piece of frightening hardware with a head like a giant oyster shell but also arranges to have his son murdered and threatens to do the same to him and his wife (Akiko Monou).
The dialogue is lame, the acting is stilted and the film lacks almost any color but that won't matter to those for whom noise and mayhem are sufficient, and it's over in less than 80 minutes.
This review appeared in The Hollywood Reporter.