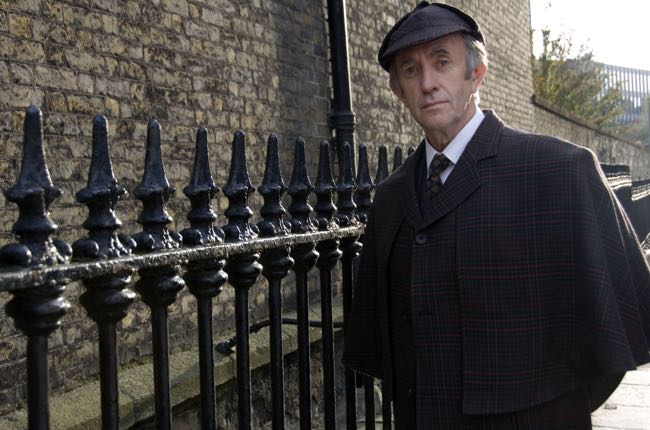 By Ray Bennett
LONDON — Putting together the correct elements for a cracking good Sherlock Holmes yarn is not as elementary as it might seem but the BBC appears to have the mix right in "Sherlock Holmes and the Baker Street Irregulars".
The two-parter, starting Sunday, is aimed at children but viewers of all ages will respond to the notion of Jonathan Pryce as the original one-man CSI unit squaring off against a former love named Irene Adler who happens to be a criminal genius. The added ingredient is that the Victorian sleuth not only has Dr. Watson to help him but also a crew of street urchins he calls his Baker Street Irregulars.
Julian Kemp directs a smart teleplay by Richard Kurti and Bev Doyle that manages to combine the traditional view of Holmes as an eccentric mastermind while reveling in the idea of a bunch of savvy ragamuffins putting their larcenous skills to work not for some Fagin but for the long arm of the law.
Shooting in Ireland, cinematographer Ciaran Tanham captures Grant Hicks accomplished production design that creates a convincing London of riverside alleyways, Chinatown streets and fancy homes.
It starts the way good mysteries should with a thief, a gun and a chase but when pickpocket Jack (Benjamin Smith) finds himself trapped, he opts for the river and is presumed drowned. His sister Sadie (Mia Fernandez) refuses to believe he's dead, however, and wants Holmes to investigate.
But the crimefighter is busy with a bigger case as police inspectors are being poisoned all over the place with suggestions that there's a Chinese curse at work. When Inspector Stirling (Michael Maloney) finds planted evidence suggesting that in fact Holmes is the villain, murdering police officers who get the credit for crimes he has solved, then the case becomes a larger problem.
Holmes is placed under house arrest and must clear his name without leaving his home. It's a locked-door mystery with a twist. Sadie and the Irregulars — Finch (Aaron Johnson, Sticks (Dean Gibbons), Jasmine (Megan Jones) and the Chinese Tealeaf (Alice Hewkin) — put their streetwise tricks to work on Holmes' behalf while the always dependable Dr. Watson (Bill Paterson) follows more established means of finding evidence.
Soon, Sherlock deduces that the woman he loved has returned to take revenge but her plan to vilify him is merely a diversion while she plans a greater crime — to break into the London mint.
The youngsters are all likeably scruffy and Paterson makes a certifiably Scottish Watson. Chancellor dresses like Mary Poppins but has nasty plans for the kids if they don't behave.
Pryce is one of those actors born to play Holmes and he uses his doleful eyes and expressive voice to good purpose with some delightful lines. When Watson says he deserves more acclaim for his work, the sleuth scornfully says the reading public is far more interested in the private lives of music hall performers than in the work of amateur detectives.
"Celebrity," he declares, "is the last refuge of the idiot."
Airs: May 25 BBC1; Cast: Jonathan Pryce, Bill Paterson, Michael Maloney, Anna Chancellor, Aaron Johnson, Mia Fernandez, Dean Gibbons, Megan Jones, Alice Hewkin, Benjamin Smith, Brendan Patrick; Director: Julian Kemp; Writers: Richard Kurti & Bev Doyle; Director of photography: Ciaran Tanham; Production designer: Grant Hicks; Editor: Ray Roantree; Composer: Debbie Wiseman; Producer: Andy Rowley; Executive producers: Elaine Sperber, Andrew Lowe, Josephine Ward; Production: ITV, RDF Television.
This review appeared in The Hollywood Reporter.