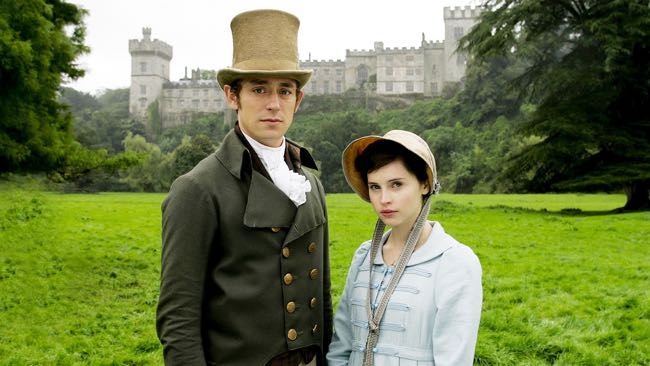 By Ray Bennett
Lust and adventure figure in Andrew Davies's imaginative and entertaining adaptation of "Northanger Abbey" starring Felicity Jones and JJ Feild (pictured), the second in ITV's Jane Austen season airing Sunday at 9 p.m. on ITV1.
Here's how my review begins in The Hollywood Reporter:
LONDON — ITV's season of new Jane Austen films hits full stride with a wonderfully evocative version of "Northanger Abbey" written with flair and imagination by Andrew Davies, adding to his list of fine credits including "Bleak House," "Tipping the Velvet" and "Bridget Jones's Diary."
Capturing vividly the flush and wonder of adolescence, the film mines Austen's first-written but last-published novel to find purest nuggets of wit, romance and social satire. The story's 18th-century heroine, Catherine Morland, has a fevered imagination and Davies draws on Austen's droll illustrations of it to create scenes of gothic adventure.
This is Austen for those who imagine wrongly that her novels are dry and dainty. There's lust and hunger in these characters and Davies, along with director Jon Jones ("A Very Social Secretary," "Archangel"), gives them full rein while never betraying the social straightjackets of the time.