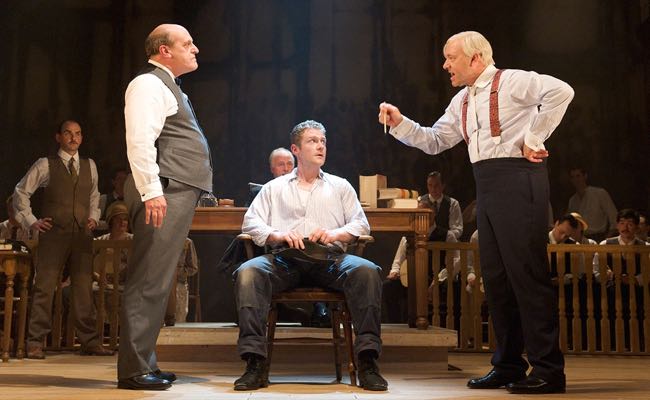 By Ray Bennett
LONDON – Director Trevor Nunn brings vividly to life a famous courtroom clash between two idealistic heavyweights in the Old Vic production of "Inherit the Wind," with unforgettable performances by Kevin Spacey and David Troughton as the legal titans.
Jerome Lawrence and Robert E. Lee based their play on the 1925 Scopes Monkey Trial in which a Tennessee schoolteacher was charged with violating state law by teaching students about Charles Darwin's theory of creation in the book "On the Origins of Species."
The trial pitted legendary U.S. trial lawyer Clarence Darrow, a noted agnostic, against former congressman, secretary of state and three-time presidential nominee William Jennings Bryan, a noted evangelical orator, and was covered by famous journalist H.L. Mencken, a noted cynic.
Their names were changed for the 1955 play and 1960 Stanley Kramer movie, which had Spencer Tracy as lawyer Henry Drummond, Fredric March as preacher Matthew Harrison Brady, Gene Kelly as newspaperman E. K. Hornbeck and Dick York as teacher Bertram T. Cates.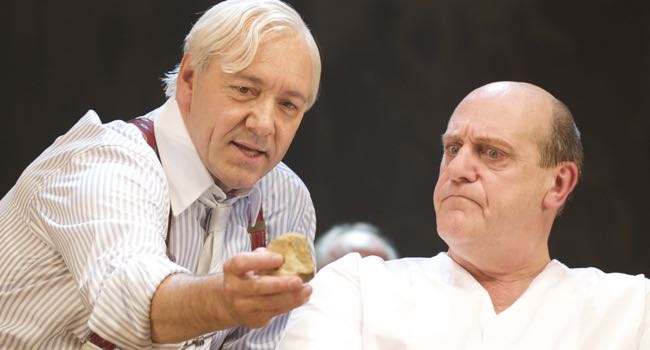 In secular Britain, the dice are stacked against a man who argues for blind belief in creationism, and Nunn does a terrific job of establishing the context. The Tony-winning English director famously has filled the stage for such productions as "Nicholas Nickleby" and "Les Miserables"; he does the same here to show how fundamentalist religious beliefs are part of the fabric of the community with parades and revivalist songs.
Written in 1955 during the McCarthy era of communist witch hunts, the play makes a direct appeal for freedom of thought and includes a rather weak romantic subplot clearly tailored for Broadway, but Nunn and his sublime players make any weaknesses irrelevant.
British veteran Troughton makes Brady big and blustery but sensitive to people around him and vulnerable only in his blinkered devotion to his religious teachings. Spacey, bulked up and round-shouldered in the role of the white-haired Drummond, uses his sly smile and intelligent eyes to great effect.
Their passionate exchanges over strict interpretations of words in the Bible show craftsmen at the highest level of acting skill so that knowing the outcome diminishes not at all their breathtaking encounter.
Mark Dexter makes a droll and slick newspaperman, and Sam Phillips as the teacher, Ken Bones as a local reverend and Nicholas Jones as the judge make fine impressions. Sonya Cassidy has the most difficult task as the love interest for the man on trial, but she handles the character's earnest but clumsy speeches well.
Venue: The Old Vic, runs through Dec. 20; Cast: Kevin Spacey, David Troughton, Sam Phillips, Sonya Cassidy, Mark Dexter, Ken Bones, Nicholas Jones; Playwrights: Jerome Lawrence & Robert E. Lee; Director: Trevor Nunn; Set designer: Rob Howell; Costume designers: Rob Howell, Irene Bohan; Lighting designer: Howard Harrison; Sound designer: Fergus O'Hare; Music supervisor: Steven Edis.