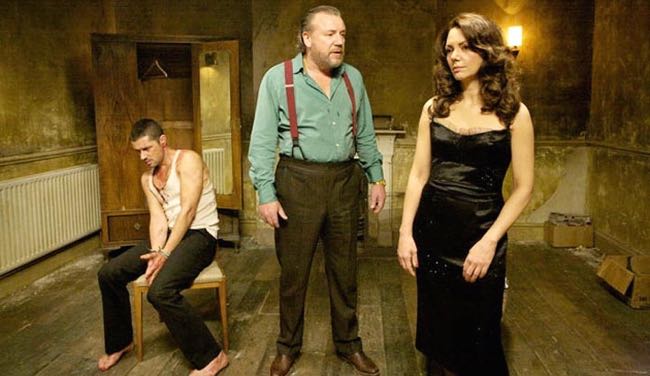 By Ray Bennett
LONDON – When a man's wife breaks the news that she has met someone else after 21 years of marriage, the husband and four friends kidnap her lover while they decide if they should kill him in Malcolm Venville's study of misogyny, "44 Inch Chest."
Written by Louis Mellis and David Scinto, who scripted "Sexy Beast" in 2000, it stars that film's Ray Winstone, Joanne Whalley and Melvil Poupard (pictured top) and plus Ian McShane, Tom Wilkinson, John Hurt, and Stephen Dillane (below) in another offbeat take on the crime thriller.
The first-rate actors involved and a flow of almost-poetic vulgarity will attract attention. American composer Angelo Badalamenti's wonderfully insinuating score adds considerably to the film's IQ, but it's far from a gangster film – more like a poor man's Pinter.
Screened at the London Film Festival, the film will be released Jan. 22 in the U.K. through Momentum Pictures and is due for U.S. release by Image Entertainment. Boxoffice at home and away could be tricky.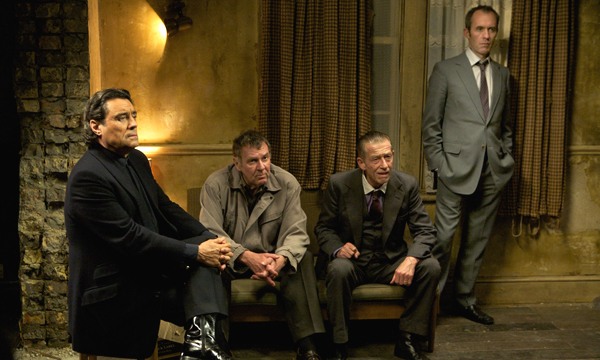 Although threatened constantly, there is not a great deal of onscreen violence. What there is is a torrent of swearing as the men give vent to every four-letter word and combination of same in the book, including the one that British men seem to love saying most.
If a man is to be judged by the company he keeps, it's a wonder it has taken the beautiful, poised Liz (Whalley) so long to leave Colin (Winstone), her overbearing, possessive husband. The film begins with him flat on his back in a lovely but now-destroyed home while his mate Archie (Wilkinson) gets on the phone to gather the troops.
With ruthless efficiency, they take the wife's handsome young lover (Melvil Poupaud) right out of the French restaurant where he is a waiter and cart him hooded to a deserted building and stuff him into a wardrobe. While Colin alternately sobs and rages, flashbacks reveal what transpired.
The film's action takes place mainly in one room as the five characters posture like angry macho men but slowly reveal their arrested development and juvenile ignorance of life in general and women in particular.
There are surreal sequences as the men's true colors come out. As a smooth gay gambler, McShane takes delight in naming the male celebrities his character fancies. Hurt is hilarious as an old lag telling the story of "Samson and Delilah", complete with clips of Victor Mature from that film. As the horribly mistreated and maligned wife, Whalley shows that any intelligent woman could wipe the floor with the lot of them.
Venue: London Film Festival, opens Jan. 15 (UK Momentum Pictures / US Image Entertainment; Cast: Ray Winstone, Tom Wilkinson, Ian McShane, John Hurt, Stephen Dillane, Joanne Whalley; Director: Malcolm Venville; Screenwriters: Louis Mellis & David Scinto; Director of photography: Dan Landin; Production designer: John Stevenson; Music: Angelo Badalamenti; Costume designer: Caroline Harris; Editor: Rick Russell; Producers: Richard Brown, Steve Golin; Executive producers: Paul Green, Dave Morrison, Tim Smith; Rating: UK 18 / US R; running time, 95 minutes.
This review appeared in The Hollywood Reporter.