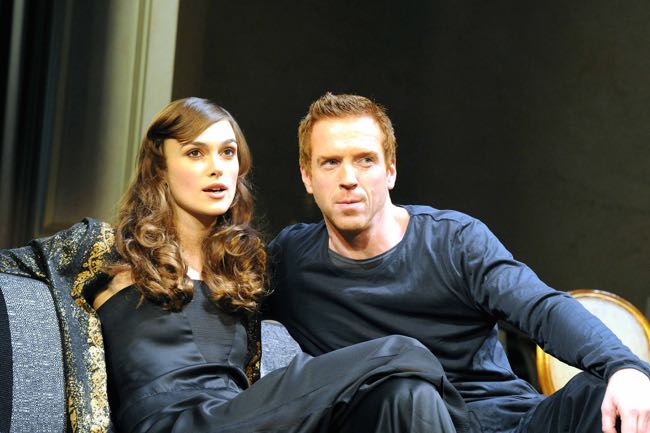 By Ray Bennett
LONDON – Keira Knightley has chosen well for her West End stage debut as a spoiled young movie star who is the center of attention in Martin Crimp's rhymed update of Moliere's "The Misanthrope."
She gets to look fabulous and also deliver some withering observations and insults to the sycophantic friends who surround her character, much to the annoyance of her disillusioned older lover (Damian Lewis).
Lewis is Alceste, a playwright whose general demeanor fits the title of the play. "Call it insanity, but I take issue with all of humanity," he says. Angry and impatient, Alceste despises the flunkies who hang around Jennifer (Knightley), whom he adores and wishes to take away from her shallow showbiz world.
The setting is a fancy London hotel room where Jennifer entertains assorted visitors including actor Julian (Chuk Iwuji) and agent Alexander (Nicholas Le Prevost), who make a bet as to which one will bed the actress first; envious acting coach Marcia (Tara FitzGerald), who seems unsure whether she'd prefer to bed Jennifer or Alceste; prissy critic Covington (Tim McMullan), who lusts for the star but wants the famous writer to read his play; and Ellen (Kelly Price), a tabloid reporter.
There's also Alceste's buddy John (Dominic Rowan), to whom the misanthropic playwright rants about the terrible state of the world and everybody in it. Tension develops when Alceste rejects Covington's play insultingly and the critic threatens to sue, and Ellen quotes Jennifer in a ferocious diatribe against everyone she knows.
Director Thea Sharrock keeps the play moving at a fiery pace. It runs a little more than two hours including an interval but provides plenty of opportunity for exchanges that slam modern entertainment, politics, sexual mores and everything in between.
Some of Crimp's rhymes seem clumsy (inflexible with sexual) and others too obvious (Jackson Pollocks with bollocks), and sometimes the performers appear unsure whether to nail the rhyme or move on past it.
There are some good lines, though. When John asks Alceste why he tolerates Jennifer's apparent selfishness, he says, "My strategy is to let her decide when to reveal her hidden virtues."
Still, it's tough to care about any of the characters, and though Lewis is sharp and savage, Knightley oh so very glamorous and the rest of the cast thoroughly expert, the enterprise feels brittle and unrewarding.
Venue: Comedy Theatre, runs through March 13; Cast: Damian Lewis, Tara FitzGerald, Keira Knightley, Dominic Rowan, Tim McMullan, Chuk Iwuji, Kelly Price, James Hogg, Nicholas Le Prevost; Playwright: Moliere, in a version by Martin Crimp; Director: Thea Sharrock; Set designer: Hildegard Bechtler; Costume designer: Amy Roberts; Lighting designer: Peter Mumford; Sound designer: Ian Dickinson
This review appeared in The Hollywood Reporter. Photo by Alastair Muir.