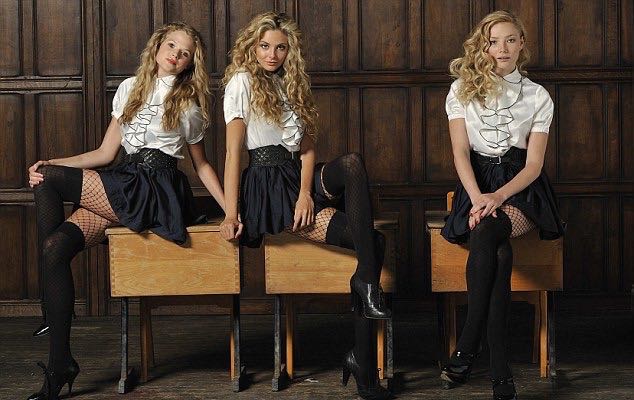 By Ray Bennett
LONDON – Strident, clumsy and pointless, "St. Trinian's 2: The Legend of Fritton's Gold" is a sequel to the 2007 attempt to revive the squealing sexy schoolgirl appeal of a series of Ealing Comedies from the 1950s.
Rupert Everett, who takes some of the blame as an executive producer, returns as the toothy headmistress of an institution populated by teenaged girls of many stripes who range from the beautiful to the wild and wacky and almost entirely witless.
All the girls and young women are called upon frequently to simply scream and run wild, or in one case create a musical Flash Mob at Liverpool Railway Station. Talulah Riley carries a lot of weight as the school's new head girl, and Tamsin Egerton (pictured centre) makes a good claim to be star of the show as a would-be supermodel who is sharper than she appears.
It's too bad the film isn't. Like the first modern remake, the film's comedy is pitched as low as possible with a tale about missing pirate treasure.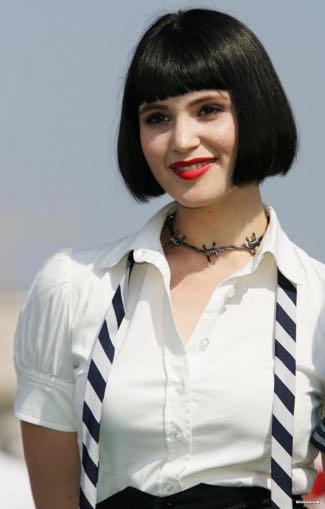 If director-producers Oliver Parker and Barnaby Thompson and screenwriters Piers Ashworth and Nick Moorcroft had paid as much attention to the script as costume designer Rebecca Hale did to her colorful and entertaining outfits, things might have been much improved. It's not helped by murky cinematography and a desperate lack of comic timing in the editing.
"St. Trinian's" misfires in all directions, and while it might keep 10-year-old girls mildly amused, it is unlikely to hit a passing grade beyond audiences with a high tolerance for low English humor.
The '50s films employed such experts as Alastair Sim, Joyce Grenfell and George Cole, whose comedic flair shone through the weakest material. Colin Firth, David Tennant, Toby Jones and Gemma Arterton (pictured), in little more than a cameo, join Everett in the new versions, and though they are fine actors, they need material to work with. Jodie Whittaker is completely wasted as a delusional school secretary.
In a typical exchange, one girl says, "This is St. Trinian's, we don't know the meaning of unfeasible!" To which another girl replies vacantly, "That's true."
Everett flounces about as the headmistress and also gets to play a rakish pirate ancestor who doesn't do much while Firth has a thankless drunk scene. In a strained climax to the picture, the two play Romeo and Juliet at the Globe Theatre. As the villain of the piece, Tennant, who recently departed the BBC television series "Doctor Who", has to mug a lot to make up for the lack of decent lines.
Opens: U.K. Dec. 18 (Entertainment); Cast: Rupert Everett, Colin Firth, David Tennant, Gemma Arterton, Talulah Riley, Tamsin Egerton, Toby Jones, Jodie Whittaker; Directors, producers: Oliver Parker, Barnaby Thompson; Screenwriters: Piers Ashworth, Nick Moorcroft; Director of photography: David Higgs; Production designer: Amanda McArthur; Music: Charlie Mole; Costume designer: Rebecca Hale; Editor: Emma E. Hickox; Executive producers: Paul Brett, Rupert Everett, Nigel Green, Chris Smith, Tim Smith, James Spring; Production: Entertainment Film Distributors, Ealing Studios, Fragile Films; Sales: Ealing Studios International; Rating: UK PG; running time, 105 minutes.