By Ray Bennett
LONDON – British television actress Tamzin Outhwaite is so vivacious and eager to please in the Menier Chocolate Factory's revival of the 1960s Broadway show "Sweet Charity", now transferred to the West End, that it's a shame the show falls down around her.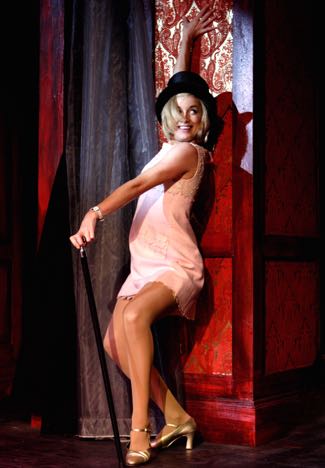 Outhwaite struts, shimmies, and flirts with aplomb and handles with flair what funny bits there are. She's a passable singer and dancer, and if her smile seems a bit fixed at least it's a winning one. But her best efforts cannot overcome the crushing banality of a crudely sexist concoction that feels dated and hackneyed.
The story is based loosely on Federico Fellini's 1957 Oscar-winning "The Nights of Cabiria" with the streetwalkers of the film changed to 1930s dancehall hostesses with hearts of gold. Outhwaite plays Charity, a chirpy blonde who still believes that one of the many losers she encounters will turn out to be marriage material despite eight years of sleazy disappointment.
The problem is that while perky and attractive she is a dimwit with little to recommend her except a willingness to fall in love with any man who looks her way. The top talent that created the show – writer Neil Simon, composer Cy Coleman and lyricist Dorothy Fields – gave the character no background and failed to set any context for the clichéd tale.
There is no story; it's just a just series of random sketches; and there are no credible characters, just lumbering songs full of complaints and unlikely dreams. The well-known numbers, "Big Spender" and "If They Could See Me Now", have melody and oomph but director Matthew White takes the steam out of them by emphasizing their irony.
Legendary choreographer Bob Fosse's dance routines made the show a hit when it was first produced although the 1969 film version starring Shirley MacLaine was a flop. Remnants of Fosse's genius appear in the routines of chorographer Stephen Mear in the London revival but they mostly lack his pizzazz.
Josefina Gabrielle and Tiffany Graves give it their all as wisecracking dancehall girls although their broad New York accents slip and slide. Mark Umbers struggles through sketches playing various men in Charity's life including a hunky Italian movie star with another bad accent and a shy and anxious admirer who's afraid of elevators. These set pieces are so staggeringly witless that it's hard to believe Simon put his name to them.
But they are typical of a show that buys into the notion that a woman just needs to find the right man, any man actually, in order to be happy, but cautions that the man will flee if she hasn't been a very good girl.
Venue: Theatre Royal Haymarket, runs through Jan. 8; Cast: Tamzin Outhwaite, Josefina Gabrielle, Tiffany Graves, Mark Umbers; Book: Neil Simon; Music: Cy Coleman; Lyrics: Dorothy Fields; Director: Matthew White; Choreographer: Stephen Mear; Set designer: Tim Shortall; Costume designer: Matthew Wright; Lighting designer: David Howe; Sound designer: Gareth Owen; Musical director: Nigel Lilley
This review appeared in The Hollywood Reporter. Photo by Catherine Ashmore.