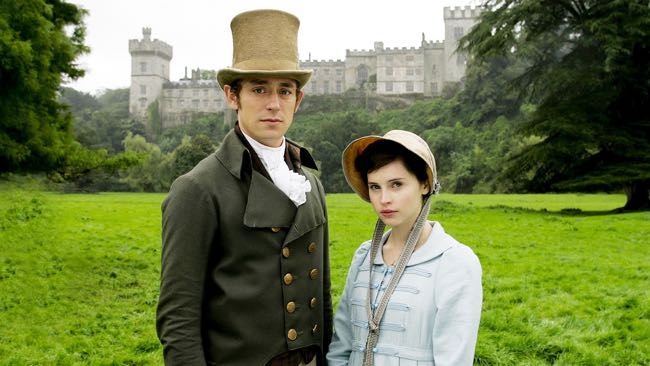 By Ray Bennett
The daunting edifice in "Northanger Abbey," ITV's new version of the Jane Austen novel that aired tonight starring Felicity Jones and JJ Feild (pictured), is actually Lismore Castle in County Waterford, Ireland.
Andrew Davies, who wrote the screenplay, says that the physical place was important because it is spoken of throughout the first half of the story: "It can't be a disappointment. Lismore Castle is a wonderful, splendid, rather scary building. It delivers all the promise of creaking ghosts in the corridors and strange things hidden in the dungeons. All the things you expect with a romantic castle."
So romantic, in fact, that you can get married there with 80 guests, 24 of them staying over, if you have £27,000 to spare. It's owned by the Duke of Devonshire, who has another rather fancy country pile in England's Derbyshire called Chatsworth. Both of them are for hire, at a price.
Chatsworth (below) has been seen in a great many movies and TV shows including the 2005 film "Pride and Prejudice" starring Keira Knightley and Matthew Macfadyen in which it portrayed Mr. D'Arcy's Pemberley.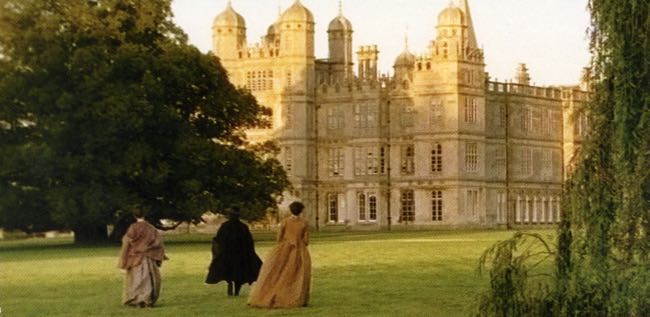 Lismore is known for its gardens (below) and a well-regarded art gallery. It also has a lot of history involving characters ranging from King John to Sir Walter Raleigh to Fred Astaire's sister Estelle, who lived there in the 1930s.
I reviewed the programme for The Hollywood Reporter but the review is no longer on the publication's website. Here's what it says on Wikipedia:
The Hollywood Reporter's Ray Bennett praised 'Northanger Abbey', calling it "a wonderfully evocative version", which was "written with flair and imagination by Andrew Davies".
He proclaimed: "Capturing vividly the flush and wonder of adolescence, the film mines Austen's first-written but last-published novel to find purest nuggets of wit, romance and social satire. The story's 18th-century heroine, Catherine Morland, has a fevered imagination and Davies draws on Austen's droll illustrations of it to create scenes of gothic adventure."
Bennett added "the film is shot beautifully by Ciarán Tanham while composer Charlie Mole's score adds to the quickening pace of Catherine's fantasies."