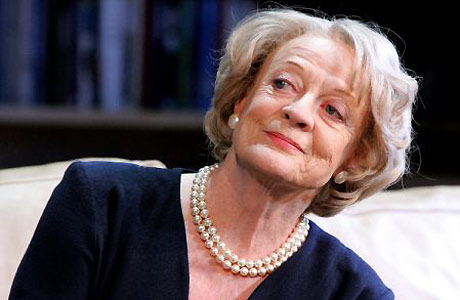 By Ray Bennett
LONDON — The appearance of the Grim Reaper at a dinner party is social death, as Monty Python once demonstrated. It's true even when, as in Edward Albee's darkly comic and highly entertaining "The Lady From Dubuque," that unwanted creature takes the form of Maggie Smith.
Legendary editor Harold Ross declared at the founding of The New Yorker that the urbane magazine would not be edited "for the old lady from Dubuque." With typically biting humour, Albee took the phrase for the title of a play about the angel of death.
It's a theatrical but bitterly funny and moving play about raging at the dying of the light. Directed with flair by Anthony Page, the production reportedly is headed for Broadway where the play was spurned on its debut in 1980.
Albee ("Who's Afraid of Virginia Woolf?" "The Goat") specializes in exorcising modern urban demons with shrewd observation, devastating exchanges and great jokes, and while this play does not rank with his finest, it is well worth a revival.
It lasted just 12 performances on Broadway in 1980 although it was directed by Alan Schneider, who had won a Tony Award directing "Virginia Woolf" starring Irene Worth, Frances Conroy and Tony Musante in 1963. Perhaps in that selfish and greedy decade audiences weren't ready for Albee's bitingly witty depiction of suburban American life and how it ends.
The setting is a comfortably bland middle class home in Connecticut where young and beautiful Jo (Catherine McCormack) is in great pain caused by terminal cancer. She deals with it by ingesting large quantities of drugs and whisky and being difficult with her husband, Sam (Robert Sella), and is caustic with their friends.
Timid Edgar (Chris Larkin), his bossy wife Lucinda (Vivienne Benesch) and rednecked Fred (Glenn Fleshler) and his spirited girlfriend Carol (Jennifer Regan) have joined Sam and Jo for an evening of drinking and party games designed so that no one need address the issue of Jo dying.
Racked with pain, Jo alternately clutches and spurns the devoted Sam and excoriates their four guests who don't know whether to join in the sparring or accept her insults meekly. The party has erupted into a shouting match and then wound down with the guests departed, but not far away, when the title character shows up with a mysterious companion just before the first-act curtain comes down.
"Yes," she says, "we've come to the right place."
She shows up, all business but with no little sympathy, claiming to be Jo's mother, Elizabeth, but Jo is upstairs asleep and Sam is hung-over and disbelieving. Elizabeth fits no description he's ever heard of Jo's mother, and her companion, a glib and debonair black man named Oscar (Peter Francis James) is like no one he's ever met.
The friends return to make amends for the ugly evening, but Sam instinctively sees what Elizabeth represents and denies it angrily. He recoils in horror even as Jo reaches out for the final embrace.
It's far from being as grim as it sounds although Albee is not gentle in his portrait of adult lives wasted on empty passions and meaningless pursuits. The characters are stereotypes and perhaps the playwright doesn't delineate them as assuredly as in his other plays, but still they are easily recognizable.
The mostly American cast acquit themselves well although Sella (Broadway's "Stuff Happens") hasn't quite mastered the difficult challenge of his breakdown on stage. James is adroit as the mysterious stranger and McCormack's portrayal of desperate pain and longing is both funny and deeply moving.
Smith is the joy you might expect her to be with faultless timing and delivery, and a satisfactorily faint American accent. Albee has his characters address the audience now and then and while at first jarring, it's clear he means it to prevent a shroud of morbidity. It's a purely theatrical device but under Anthony Page's clear-eyed direction it works very well, and Smith shows how it's done by the very best.
Theatre Royal Haymarket, London (March  through June 7, 2007); Presented by Robert Fox, Elizabeth I. McCann and the Shubert Organisation; Credits: Playwright: Edward Albee; Director: Anthony Page; Set designer: Hildegard Bechtler; Costume designer: Amy Roberts; Lighting designer: Howard Harrison. Cast: Elizabeth: Maggie Smith; Lucinda: Vivienne Benesch; Fred: Glenn Fleshler; Oscar: Peter Francis James; Edgar: Chris Larkin; Jo: Catherine McCormack; Carol: Jennifer Regan; Sam: Robert Sella.