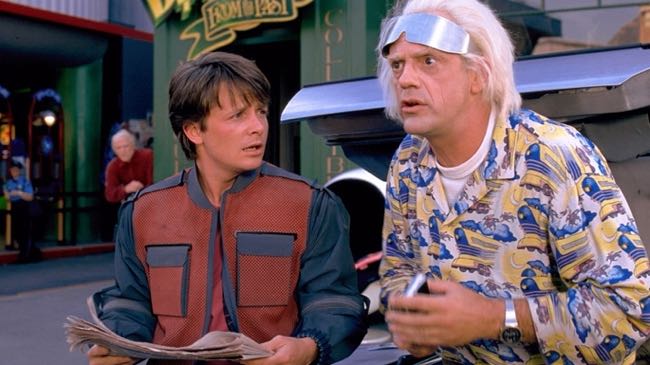 By Ray Bennett
LONDON – As "Back to the Future" marks its 30th anniversary, here's a version of a story I wrote in 1985 for the Los Angeles Herald Examiner.
In 1984, Canadian actor Michael J. Fox (pictured with Christopher Lloyd) was starring in a struggling US TV sitcom titled "Family Ties" and taking what movie roles he could get including a cheap exploitation picture called "Teen Wolf".
He was busy on that film on a street in Los Angeles when some location scouts came by to check out the same place. Fox told me back then: "We're in the trenches, so to speak, trying to knock out this very low-budget movie, trying to do the best we can, and here are these guys from some big Steven Spielberg and Robert Zemeckis film. We're all sitting around with big saucer eyes, going 'Jeez, wouldn't it be nice … '"
Suddenly, everything changed. Half-hour comedies were not big on US TV in those days, so few expected that "The Cosby Show" would rocket to No. 1 and turn the industry around. NBC scheduled it on Thursday evenings ahead of "Family Ties" and after two seasons, Fox's show turned into a massive hit.
Spielberg and Zemeckis began to make their big film, a futuristic comedy about the past called "Back to the Future" with Eric Stolz as boyish time-traveller Marty McFly.
Stolz had become a star opposite Cher in "The Mask" but Zemeckis told me that he came to the awful realisation that "I had made a very serious casting error". He faced what he said was "the worst possible disaster outside of having an actor die".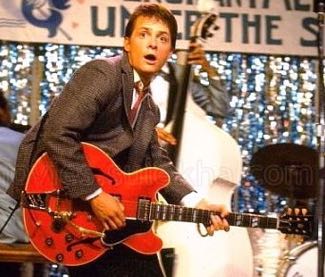 Suddenly, Stolz was out, and the director needed a replacement fast. Busy with "Family Ties", Fox went one Friday afternoon to visit the series' producer Gary David Goldberg.
The young actor told me, "Gary said, 'I've been looking for you all over.' I thought he wanted to talk about another project we'd been kicking around. I got up to his office and he handed me a script: 'Back to the Future'. He said, 'I just got a call from Steven Spielberg. They want you to start Monday. I said, 'Wait a minute, they've already got a guy.' Gary explained that they had creative differences — which is all I've ever known about that — and they wanted me. I said, 'No, no way. I don't want to do it.'"
Of course he didn't. In the middle of the night, he phoned Goldberg: "You've gotta phone Spielberg. Don't let him change his mind." On the Monday, after a full day on "Family Ties", Fox reported for work on "Back to the Future".
It would be like that for seven weeks. By the end, Fox's driver would practically tuck him in at night and arrive in the morning to throw him into the shower. "It got kind of surrealistic," Fox admitted.
"Back To The Future" was a smash hit in 1985 and generated $381 million in theatres worldwide. The 1989 sequel took $331 million and the third one in 1990 made $245 million.
Fox went on to make pictures such as "Bright Lights, Big City" and "Casualties of War" and then returned to TV in 1996 in the hit series "Spin City". In 1998, he announced he was suffering from Parkinson's disease but he has continued his career on series including "Boston Legal", "Rescue Me", "The Michael J. Fox Show" and "The Good Wife".
Back in 1985, Zemeckis said Fox's energy and professionalism saved "Back yo the Future". He called Fox "the Jimmy Cagney of the Eighties. We know he's a TV star, but he turned in a wonderfully measured film performance —now he's a movie star."
Which pleased the youthful, 5ft 5inch actor no end. "If people say I remind them of Cagney or Mickey Rooney, obviously I'm very flattered. But I like it," he said. "There are enough guys trying real hard to be Robert DeNiro or Al Pacino. I'll be the guy who's maybe like Cagney. I like that great line in 'My Favourite Year' when Peter O'Toole says, 'I'm not an actor. I'm a movie star!'"
Universal Pictures has "Back to the Future" and its two sequels on  Blu-ray Disc. The franchise made close to $1 billion at the box office.