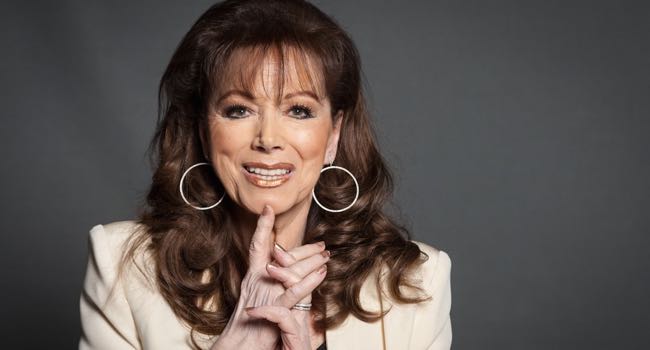 By Ray Bennett
LONDON – Jackie Collins, who died on Sept. 19 of breast cancer aged 77, was a far more thoughtful person than her raunchy writing might suggest and not at all the diva that older sister Joan Collins became.
Collins is known for sexy blockbusters such as "The Stud", "Rock Star", "Lovers & Players" and her Hollywood series that includes "Hollywood Wives", "Hollywood Husbands" and "Hollywood Divorces".
From the time her first book, "The World is Full of Married Men" raised the ante on 1960s romantic novels with its sexual content, she grew to a level of fame that exceeded Joan's until her older sister was cast in the hit 1980s primetime soap "Dynasty".
Jackie spent her summers in Los Angeles as a young woman and moved there with her second husband, Oscar Lerman, owner of nightclub Tramp, who died of prostate cancer in 1992, in the early Eighties.
At 15, she had been expelled from school in England due to boredom that led to misbehaviour and her talent agent father Joseph Collins and her mother Elsa sent her to live with Joan in Hollywood.
"Joan told them, 'Oh, you can send her over. I'll look after her.' She met me at the airport with the keys to her apartment, a list of people I should know, and a crisp, 'Learn to drive', and went off on location for a year," Jackie told me when I interviewed her in 1988.
She had always wanted to write, even as a child: "I think when I was about 9 or 10, I started to write stories. When I was about 11, I discovered Henry Miller's 'Tropic of Capricorn' in a brown paper wrapped beside my father's bed. It seemed to me there was no other way to live one's life than to write stories, tell stories about other people."
Jackie returned to England but when she went back to Los Angeles , she made her own friends who pumped gas and parked cars, and she tried acting for a while. She discovered that Hollywood was a mix of glamorous people and lots of struggling actors and actresses that she wrote about in "Hollywood Wives".
"There was also this middle line of fat old men saying, 'Well, do you want the role? Pull up your skirt, let's see your legs, let's have dinner tonight – that sort of thing. Because I was an out-of-work writer trying to be an actress with no enthusiasm whatsoever for about a year, I got this wonderful insight into the way men treated women."
She came to a conclusion about the opposite gender. "Most men," she told me, "I'm sure you're the exception and so is my husband but I found most men to be completely predictable. It's the same in any business. Publishing is full of men in their 50s and 60s who hit on every little 22-year-old college graduate who comes to work."
The 1970s explosion in pornography, Collins suggested, was in direct response to the women's movement as it gathered strength. "In the Seventies, that's when porno magazines got really, really bad. I'm not talking about Playboy and Penthouse but the really sleazy ones that were sold under the counter. It's like men said, 'OK, baby. You want freedom, we'll give you freedom.' I think men had a problem with the fact that women wanted to be strong.
"When it came to Women's Lib, men just didn't know what to do. It's all very subliminal, of course. If you remember, when Women's Lib really came to the fore, that's when they started to make all those slasher movies. It was always young, beautiful girls out in the forest with some guy who would come along and kill 10 or 20 college girls. They were very successful because men wanted their women to see these films to give them the subliminal message, 'If you get out of hand, baby, this is what's going to happen.'"
What she aimed to show in her books, Collins told me, was to show the unfairness of the double standard and that a lot of women would like a more equal sexuality: "A lot of men have been frightened by the whole thing and become womanisers. What I like to do is show a guy who's an asshole and turn him around during the course of a book so he's a prince at the end of it."
Her reputation was for writing big raunchy blockbusters, but she said, "I think they're very moral tales. If a man plays around on his wife, he's not going to end up the hero in my book."
"The World is Full of Married Men, published in 1969, dealt with a man who cheated on his wife and everyone thought it was acceptable but when the wife finally took a young lover, he was furious.
"How dare she do this to him? Society went crazy in England when it was published. It went to No. 1 and everyone was shocked and horrified. There wasn't a four-letter word in it. Women loved it as nobody had done this before. The Margaret Drabbles and Edna O'Briens were writing about going off and having nervous breakdowns in the Cotswolds, and here's Jackie Collins writing about a woman who actually turns around and does something about it."
Collins enjoyed her life in the film capital despite all the sex and sin she wrote about, she told me, because she had a secure background with a terrific husband, three kids and assorted dogs: "It sounds corny, but it's true. I lead a very domesticated life most of the time and then I go out to lots of parties and hear all the stories people want to tell me. 'You're just not going to believe this!' And sometimes I don't, but I hate the vicious gossip I sometimes hear."
She cherished the fact that she did not rely on Hollywood for work: "I don't have to answer to anybody here. I don't want  a job from anybody here so I can live a very independent life. I don't need to get involved in the rat race. I can sit back and enjoy it and watch everybody. I have the best of both worlds."