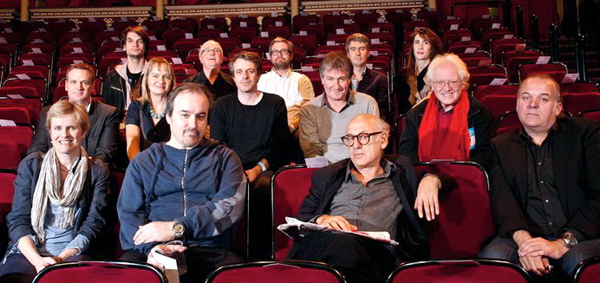 By Ray Bennett
LONDON – The richness and range of modern film scores were on display Monday at London's Royal Albert Hall as James Bond composer David Arnold's Concert for Care International showcased some of the best of today's movie music.
Seldom have so many top film composers and their scores been featured in one concert, with contributions from a dozen mostly British music makers. They ranged from Rachel Portman's bucolic Academy Award-winning end titles from "Emma" to the ferocious power of the "American History X" theme by Oscar winner Anne Dudley ("The Full Monty").
Robert Ziegler conducted the Royal Symphony Orchestra, and the evening featured levity from comics Ed Byrne, Dom Joly and Jimmy Carr. The Kaiser Chiefs' Ricky Wilson joined Arnold on ukuleles to perform "You Belong to Me" from The Jerk, and Matt Lucas from TV's Little Britain was helped by opera singer Alfie Boe through an unusual but delightful rendition of Charlie Chaplin's "Smile" from Modern Times.
Portman also introduced her lively "Passage of Time" from "Chocolat" and the lush melody of the main titles from "The Cider House Rules". Dudley conducted the orchestra on the frolicsome "Decadence Walt" from "Bright Young Things" and played the electronic accordion as Christopher Gunning took the baton for his evocative original music from "La Vie en Rose".
Jil Aigrot, whose voice subbed for many of the Edith Piaf recordings in that film, was on hand to deliver a heartbreaking rendition of "Non, je ne regrette rien."
Renowned cellist Caroline Dale placed her haunting and resonant tones at the service of Craig Armstrong's lovely "Cello Theme" from "World Trade Center" and Dario Marianelli's sublime "Elegy for Dunkirk" from his Oscar-winning "Atonement" score. Armstrong also conducted his delicate "Glasgow Love Theme" from "Love, Actually".
Marianelli contributed the infectious, typewriter-led "Briony" theme from "Atonement", which the composer said had the working title of "The Girl Who Can't Stop Telling Lies" because of the character's duplicitous role in the drama.
The evening began with Patrick Doyle's sprightly "Picnic" and "Overture" from "Much Ado About Nothing" and proceeded with a sumptuous suite from Harry Gregson-Williams' score for "The Chronicles of Narnia: The Lion, the Witch and the Wardrobe". Imogen Heap sang and played piano on "Can't Take It In," which she co-wrote with Gregson-Williams and sang in the picture.
Radiohead guitarist Jonny Greenwood presented his dark and threatening themes from "There Will Be Blood", and John Powell conducted his busy and energetic music from "How to Train Your Dragon".
John Ottman, the only American composer involved, contrasted his upbeat theme from "Astro Boy" with the sensuous "Main Title" from "The Usual Suspects", and there was similar contrast in George Fenton's flowing melodies from "Shadowlands" and the reach-for-the-sky heights of "The Final Mission" from "Memphis Belle".
Arranger Guy Barker led the orchestra for a vivacious solo performance by jazzy singer Paloma Faith of "Wild Is the Wind" from the 1957 film. A version of the song by Dimitri Tiomkin and Ned Washington was heard widely on the trailer for Sam Mendes's "Revolutionary Road". Another highlight saw Michael Nyman alone at the piano to perform his complex and indelible "The Heart Asks Pleasure First" from "The Piano".
Arnold, an ambassador for the international charity Care who put the cannily programmed concert together with producer Tommy Pearson, ended proceedings on a high note with his bottled-in-Bond "You Know My Name" theme from "Casino Royale" and the victorious intergalactic bombast of the "End Title" from his Grammy-winning "Independence Day score".
This review appeared in The Hollywood Reporter. Photo by Julie Edwards features, from left front row: Rachel Portman, David Arnold, Michael Nyman, Craig Armstrong; from left second row: John Otman, Anne Dudley, Harry Gregson-Williams, George Fenton, Christopher Gunning; back row, Jonny Greenwood, Patrick Doyle, John Powell, Dario Marianelli, Jocelyn Pook.