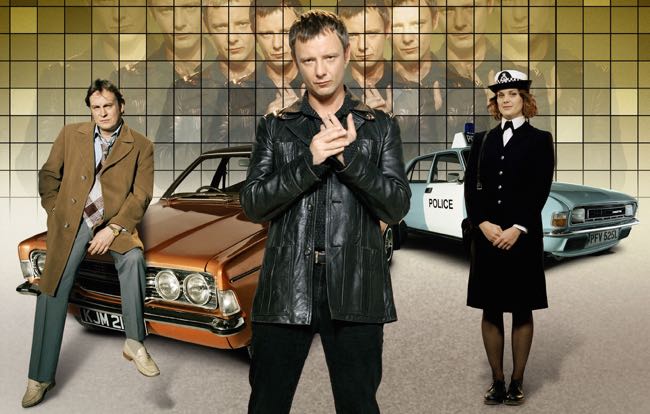 By Ray Bennett
LONDON – Taking its title from the David Bowie song, the BBC's intriguing new sci-fi police series "Life on Mars" pitches a sophisticated 21st century police detective back 30 years to a time when policing relied on the gut instincts of no-nonsense hard men with only a passing interest in the niceties of the law.
At least, that's how Detective Chief Inspector Sam Tyler (John Simm, pictured centre) sees it when he wakes up following a 2006 car crash to find he's the new man in a 1973 Manchester detective squad run by tough DCI Gene Hunt (Philip Glenister, above left).
How he got there is, of course, the central mystery. Produced by Kudos, the film and television company responsible for "Spooks," the show was created by "Hustle" alumni Matthew Graham, Tony Jordan and Ashley Pharoah, who also share most of the writing responsibilities.
Executive producer Jane Featherstone and Bharat Nalluri, who directs the first two episodes, also have "Spooks" and "Hustle" among their credits.
Between them, in "Life on Mars" they navigate smoothly past the tricky bit in science fiction where the audience says "Now, that's rubbish" so that Tyler's dilemma captures the imagination and suspension of disbelief is secured.
The first episode is all about Tyler thinking he's in a coma and simply dreaming about 1973, especially when he finds that 30-year old crimes bear a relation to what's going on in his real world.
His trip, real or imagined, takes on urgency as the opening sequence shows his girlfriend, Maya, a fellow officer, kidnapped by a suspected serial killer. If he's to save her, he must figure out not only how to survive in the primitive environment of outdated policemen but also how to get back to the future.
As with all such fantasies, the delight is in the detail and the show boasts clever writing and engaging performances. Policing without mobile phones, the Internet and all the forensic wizardry of crime scene investigators poses a major test for Tyler, not to mention the dodgy '70 clothes. The music and the cars aren't bad, though.
Simm brings the right mix of bemusement and superiority to his reluctant time traveler and Glenister is a believably rugged traditional copper. Liz White (pictured) is very appealing as a constable with a psychology degree who faces ridicule and sexist banter on a daily basis and Tony Marshall promises to be a knowing ally for Tyler as a local bartender.
It will be interesting to see where the makers take the show over its eight episodes, but "Mars" looks like a good place to visit.
A Kudos Film & Television production for BBC Wales; Director: Bharat Nalluri; Writer: Matthew Graham; Producer: Claire Parker; Executive producers: Matthew Graham, Jane Featherstone; Director of photography: Adam Suschitzky; Production designer: Brian Sykes; Editor: Barney Pilling; Composer: Edmund Butt. Cast: DI Sam Tyler: John Simm; DCI Gene Hunt: Philip Glenister; WPC Annie Cartright: Liz White; DC Chris Skelton: Marshall Lancaster; DS Ray Carling: Dean Andrews: WPC Phyllis Newton: Noreen Kershaw; Nelson: Tony Marshall; Maya: Archie Panjabi.
This review appeared in The Hollywood Reporter.