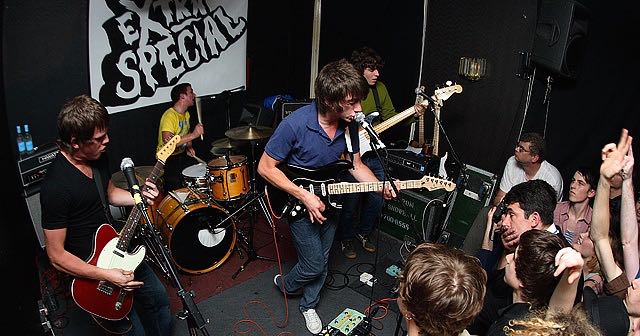 By Ray Bennett
LONDON – It might not mean another British pop invasion, but England is swinging these days more than it has in years with world-beating acts including Coldplay, Gorillaz, the Kaiser Chiefs, Girls Aloud, balladeer James Blunt and hot new band Arctic Monkeys (above).
Rock elders Paul McCartney, the Rolling Stones and Oasis still record and tour with enormous success but the vibrancy of the British pop scene embraces a range of performers that extends to such North American acts as Scissor Sisters, the Killers and Arcade Fire.
But while American acts rule in the British urban charts, U.K. artists dominate the hit parades of other musical genres and industry insiders say there are several reasons for that beyond the country's capacity for breeding talent.
HMV Product Director Steve Gallant says, "The U.K. music scene is extremely vibrant with a great live circuit and receptive media, and new talent springs from that. The Kaiser Chiefs have been the biggest breakthrough act, and they're enjoying success in the United States too."
British Phonographic Industry (BPI) Chairman and CEO Peter Jamieson points out that the U.K. has bucked worldwide trends in falling record sales: "In global market statistics for the last 10 years, the British market has held up better than any other. It's down to the health of British music that the market share has stayed strong."
Association of Independent Music spokesman Sam Shemtob speaks of the nimble-footedness of U.K. indies who work with fragmented media and internet fans bases to enable distribution: "There are all sorts of genres thriving on new digital radio stations and niche fan bases. Some indies don't care about the charts but achieve substantial sales through these new avenues."
BPI and AIM pay tribute to the British government's Trade & Investment missions that help show off the nation's musical talent in the U.S. and such places as India, Japan and China, and February in Australia. Shemtob says, "They have been a real boon. The benefit has not yet been reaped, but the seeds have been sown."
The strength of British pop has helped put the country's one major, EMI Group, in a rosier position after it resorted to severe cost-cutting and reorganisation. Group chairman Eric Nicoli reported positive half-year figures last month and said: "The biggest reason was great product and, as we've proved in the past, when you have great product, it sells. Our job is to continue to produce great music."
EMI Recorded Music UK is coming off a great year with the likes of Coldplay and Gorillaz, a new release from Kate Bush and new artists coming up including KT Tunstall, Athlete, the Magic Numbers and Corinne Bailey Rae.
Chairman and CEO Tony Wadsworth says, "My big hope is to see KT break through overseas in 2006, particularly in the United States, where there is already a groundswell of radio interest. And people are already talking about Corinne Bailey Rae as one to watch."
EMI Music Publishing UK Managing Director Guy Moot says flat out: "The hottest group is Arctic Monkeys, who will have another single out in February and an album in March or April. As a result of their internet activity and constant touring, I've never seen such audience familiarity with songs that haven't been formally released."
EMI Music Publishing snapped up British singer-songwriter James Blunt before he had a record deal, and his song "You're Beautiful" has been a smash hit. Moot says, "U.K. media are always looking to push the boundaries."
Universal Music's Polydor Records Managing Director David Joseph says, "To run a label these days, you have to be incredibly broad. You have to note the trends that are happening in MOR in the supermarkets. But then you try to sign the most innovative and creative bands out of the specialist genres and from the internet, and then you can broaden out."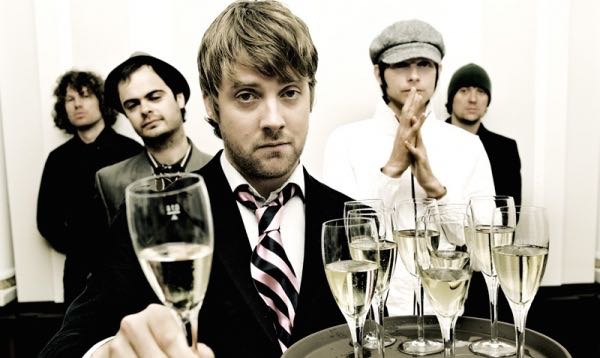 The Kaiser Chiefs (above) took that route, he notes: "You can start a record in the specialist section of HMV and then take it someplace else. Kaiser Chiefs were like that. They started off specialist and now they're one of the biggest sellers at (leading supermarket) Tesco."
HMV's Gallant cites the live circuit as a vital part of the U.K.'s pop energy: "There are a lot more festivals with one almost every week in summer, from Glastonbury to Reading, plus all the smaller venues."
EMI's Wadsworth says Britain has "the best music retail in the world" and he also points to the receptive media landscape: "The BBC's Radio 1 and Radio 2 have a commitment to new music that is not weighed down by immediate commercial considerations, but if you stick your neck out, you do get an audience."
Radio 2 Controller Lesley Douglas says, "John Peel has gone, but the principle of supporting new music and new acts remains. We never pre-test before we play something. The desire and the will to take risks are in our DNA."
Douglas says the internet has allowed young people to discover music from generations ago and older audiences to enjoy new material: "The young are searching back to see where music has come from, and there is a great acceptability by all age groups of all kinds of music. The Kaiser Chiefs are great no matter what age you are. They have that British sense of fun that goes all the way back to the Beatles."