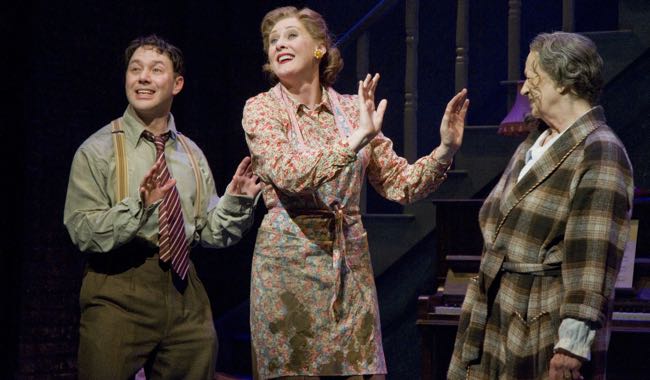 By Ray Bennett
LONDON – "Betty Blue Eyes" is a new stage musical based on the 1984 Michael Palin and Maggie Smith post-war English comedy "A Private Function" but in making something loud and boisterous, the show loses the film's quaint eccentricity and occasional bite.
The setting in 1947 is almost a mirror image of the current state of affairs in the United Kingdom with war, stern austerity measures imposed by the government, and a royal wedding about to take place.
In the show, Princess Elisabeth and Prince Philip are about to be wed. Food is rationed severely following World War II and so the local bigwigs in a small northern town decide to use an unlicensed pig for a banquet to honor the royal couple.
In Alan Bennett's screenplay for the Malcolm Mowbray film, the town toffs merely conspire in their usual selfish way to eat as high off the hog as they can. When inoffensive podiatrist Gilbert Chilvers (Palin) discovers the plan, his social-climbing wife Joyce (Smith) schemes to kidnap the beast and butcher it for the family.
The musical, with book by U.S. writers Ron Cowen and Daniel Lipman, is exactly the same except that everybody sings about it. It's a tune-filled if not exactly melodic show with energetic if not enthralling dancing. A black-and-white newsreel sets the stage and then the cast sings about the then prime minister's guarantee of "fair shares for all."
Reece Shearsmith (pictured with Sarah Lancashire and Ann Emery) makes a bouncy Chilvers and he declares his ambition to get a surgery for his practice on Main Street with a jaunty ode to "a place on the Parade". The local housewives sing "Magic Fingers" in praise of his delicate treatment of their feet and Sarah Lancashire, as the pushy Joyce, reveals an unlikely previous life as a leggy nightclub singer in a number designed to show that she is not "Nobody."
There's a rotund fellow named Allardyce, played by Richard Griffiths in the film and here by Jack Edwards, who gets to sing the title song in praise of the stolen pig. The animal is animatronic with just his head, front legs and torso seen to move in time to the music. As Gilbert's mother-in-law, Ann Emery gets a lot of comic mileage out of thinking that she's to be killed and eaten, not the pig.
Much is made of the pig's indiscriminate intestinal habits and incontinence with green smoke billowing in emphasis. There's a representative of the meat police, Inspector Wormold, played by Adrian Scarborough like a man from the Gestapo made joyless and without appetite of any kind since he suffered German measles as a boy. He sings an airy paean to the joys of confiscating meat that's been obtained illegally with a chorus of cops in green spotlights. The brush with which he daubs the seized cutlets is, oddly, not green, and his song's rhymes don't get much above "if meat is deemed unfit, they won't be eating it."
Most of Anthony Drewe's lyrics are of that order with great use of the most obvious porcine related words although the podiatrist's song has a reference to "fetid fungal growth" not often heard in stage musicals. George Stiles music is jaunty although it all starts to sound the same.
Director Richard Eyre knows how to keep a show moving and there are no slow bits. David Bamber as a snob doctor, Mark Meadows as a property owner and Ian Conningham as the local bobby join Edwards in a sneering number about how Britain has gone downhill since the welfare state and the National Health Service came in. It sounds like a rebuttal to the anti-Thatcherite themes in "Billy Elliott" on the other side of London.
In going for verve and vigor, "Betty Blue Eyes" loses the ironic charm of the original with Bennett's clear-eyed view of England's social strata. As a result, it feels provincial and while it should keep busloads of northern British tourists happy, it's doubtful that overseas visitors will be similarly attracted.
Venue: Novello Theatre, London (running through Jan 28, 2012); Cast: Sarah Lancashire, Reece Shearsmith, David Bamber, Jack Edwards, Ann Emery, Mark Edwards, Adrian Scarborough, Ian Conningham; Book: Ron Cowen, Daniel Lipman, adapted from the screenplay of the film "A Private Function" by Alan Bennett; Music: George Stiles; Lyrics: Anthony Drewe; Director: Richard Eyre; Set designer: Tim Hatley; Lighting designer: Neil Austin; Sound designer: Mick Potter; Choreographer: Stephen Mear; Musical supervisor: Stephen Brooker.
This review appeared in The Hollywood Reporter. Photos by Michael le Poer Trench.