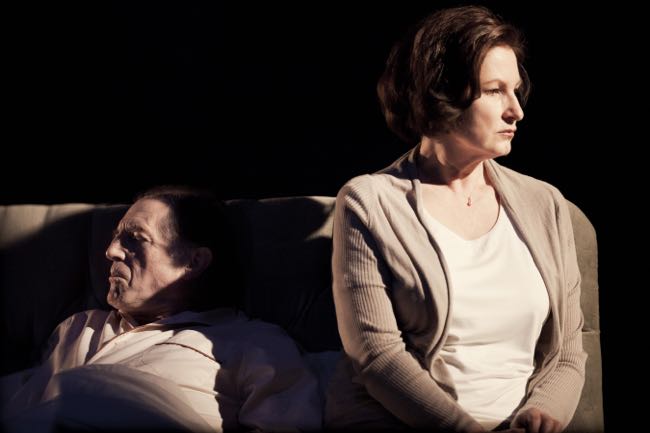 By Ray Bennett
LONDON – The late Harold Pinter's last play, "Moonlight", revived for the first time in 18 years at the Donmar Warehouse, deals in disaffection and alienation, and it is difficult to warm up to.
Director Bijan Sheibani has most of the players walk out and line up at the back of the stage at the start as if to underline the artifice of what is about to unfold. Presented over 80 minutes with no interval, it's about an ageing couple that appear to have mislaid their children. Two grown sons are off somewhere and a long-dead daughter shows up to offer ghostly laments.
Andy (David Bradley) lies in a double bed waiting to die as his wife Bel (Deborah Findley, pictured above with Bradley) sits sewing beside him. Andy complains about an unappreciated life as an authoritarian civil servant while Bel offers blithe taunts about her affairs with his best friend Ralph and his onetime mistress Maria.
Andy is angry that Bel has not persuaded their sons to visit him before he dies and there, just across the stage but very far away, are Jake (Daniel Mays) and Fred (Liam Garrigan, pictured below with Mays), two layabouts who like the sound of their own voices. A wisp of a girl, Bridget (Lisa Diveney), floats in mournfully every now and then, and Ralph and Maria drop by for a brisk and unfeeling visit.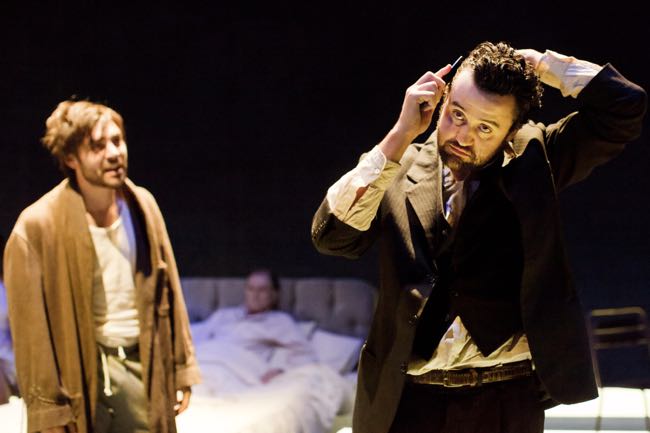 Pinter's skilful technique is to not give over information that most writers would see as essential. Among the mysteries that remain are how the daughter died, and what happened to alienate the sons. That creates some suspense, but audiences know better than to expect answers from this playwright.
His gift for language remains strong, however, and the language is entertaining with several ironic laughs. Bradley's craggy features, raspy voice and dry delivery are perfect for a man who has lost his vigor and clings faintly to the hope that his life has been worth living. Findlay has a motherly and doting air but her deceptively soft responses to her husband's aggressive complaints and defensive declarations cut like a dagger.
Mays and Garrigan play the sons as quick-witted lads full of banter but without purpose in their existence except to spurn their mother when she telephones. Designer Bunny Christie's sparse set, with just a bed, a cot and a couple of chairs and tables, and Jon Clark's pinpoint lighting serve to further the alienation of everyone on stage.
The play ponders death before and after life and while it falls to Diveney as the ghost of Bridget to show there's little reason for optimism, her lilting presence is always welcome. There's not much light from the moon here, however, and no sunlight at all.
Venue: Donmar Warehouse, runs through May 28; Cast: David Bradley, Deborah Findley, Lisa Diveney, Daniel Mays, Liam Garrigan, Carol Royle, Paul Shelley; Playwright: Harold Pinter; Director: Bijan Sheibani; Set designer: Bunny Christie; Lighting designer: Jon Clark; Music & sound designer: Dan Jones.
This review appeared in The Hollywood Reporter. Photos by Johan Persson.