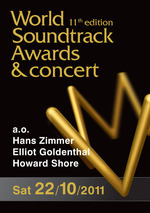 By Ray Bennett
The World Soundtrack Awards concert at the 38th Ghent Film Festival on Oct. 22 will be a night of mixed emotions because while it will celebrate the music of some great composers, it also will be dedicated to the memory of the late Ronni Chasen, the Hollywood P.R. legend who did so much to make the the annual event such a success.
Oscar winners Elliot Goldenthal, Howard Shore, and Hans Zimmer will be there to honour Chasen along with other regulars at Ghent, where Chasen held a birthday luncheon every year.
Music by the three composers also will feature in the concert with artistic director Dirk Brossé conducting the Brussels Philharmonic – the Orchestra of Flanders. The winner of last year's World Soundtrack Discovery Award, Abel Korzeniowski will perform his award-winning music from "A Single Man", which also won him the Public Choice Award in 2010.
Awards will presented to the World Soundtrack Awards winners. Here are the nominees:
Film Composer of the Year
Award can be presented in respect of one film or in respect of a body of work in the year
Alexandre DESPLAT
A Better Life, Tamara Drewe, The Burma Conspiracy, The King's Speech, The Tree of Life, The Well Digger's Daughter, Harry Potter and the Deathly Hallows: Part 1, Harry Potter and the Deathly Hallows: Part 2
Hans ZIMMER
Inception, How Do You Know, Megamind, Pirates of the Caribbean: On Stranger Tides, The Dilemma, Rango, Kung Fu Panda 2
Clint MANSELL
Black Swan, Faster, Last Night
John POWELL
Mars Needs Moms, Rio, Kung Fu Panda 2
Patrick DOYLE
La Ligne Droite, Thor, Jig
Best Original Film Score of the Year
INCEPTION by Hans Zimmer
THE KING'S SPEECH by Alexandre Desplat
THE SOCIAL NETWORK by Trent Reznor and Atticus Ross
BLACK SWAN by Clint Mansell
TRUE GRIT by Carter Burwell
Best Original Song written directly for a Film
'WE BELONG TOGETHER'
from "Toy Story 3"
music & lyrics by Randy Newman
performed by Randy Newman
'YOU HAVEN'T SEEN THE LAST OF ME'
from "Burlesque"
music and lyrics by Diane Warren
performed by Cher
'COMING HOME'
from "Country Strong"
music & lyrics by Bob DiPiero, Tom Douglas, Hillary Lindsey and Troy Verges
performed by Gwyneth Paltrow
'I SEE THE LIGHT'
from "Tangled"
music by Alan Menken
lyrics by Glenn Slater
performed by Mandy Moore and Zachary Levi
'IF I RISE'
from "127 Hours"
music by A.R. Rahman
lyrics by Dido (Dido Armstrong) and Rollo Armstrong
performed by Dido & A.R. Rahman
Here's more about the World Soundtrack Awards