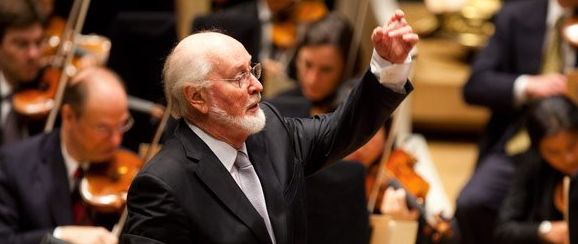 By Ray Bennett
John Williams celebrates his 80th birthday this year with concerts at The Hollywood Bowl on Aug. 31 and Sept. 1 and the Royal Albert Hall on Oct. 19.
He is celebrated rightly for his extraordinary work with Steven Spielberg but in an interview in 2000, I asked him about the many other movie directors he worked with such as William Wyler, Frank Sinatra, Gene Kelly, Robert Altman, and Alfred Hitchcock.
On William Wyler:
That was for "How to Steal a Million" back in the middle '60s and it was quite a delicious comedy with Peter O'Toole. What I remember about Wyler was that was he was a very, not a gruff person, but very direct and also very quiet. I don't recall playing any music at the piano before we scored. At the scoring sessions he was very friendly and appreciative. The dubbing went extremely well. My recollection of him is of a very focussed professional. I think he was the kind of person that relied on musicians to compose and interpret and record his music. I don't know this for a fact, whether he was a concert-goer or a particular music lover, but I don't remember him being specific about the details of the musical score. We got on very well and that's about it. Anecdotes about Wyler don't come to mind particularly beyond that.
On Frank Sinatra.
I conducted several times for Frank singing at shows and appearances, but I had the privilege of composing the score for the only film he ever directed, "None But the Brave." Again, along the lines of my continued good fortune, I mean, Frank Sinatra had the reputation of being a very difficult guy, but he couldn't have been sweeter to me. We discussed the music a little bit. He came on the recording stage briefly when we recorded the music. He sent thank you notes and beautiful gifts and was very attentive and very friendly. It was a very good experience. That score, incidentally, was conducted by Maurice Stoloff. It was done at Warner Bros. but Stoloff was a very good and longstanding friend of Sinatra. It might have been Stoloff who convinced Frank to ask me to do the score. I was very surprised about that because Frank Sinatra knew all the musicians in Hollywood and could have had anyone he wished. I felt at the time, and still do, that I was a very lucky person to have that assignment. I had known him slightly before. I never played the piano for Frank because he always had his own pianist; but later I conducted some shows for him, many years later. We would reminisce about "None But the Brave." He was then, as he was earlier on, very grateful and appreciative of what I tried to do for him.
On Gene Kelly:
Williams: Yes, yes. "A Guide for the Married Man."A good experience also. Gene was very demanding. In contrast to Wyler, for example, he was very hands-on, so to speak, where music was concerned. He would stand over the moviola and talk about tempo, where it should increase where the comedy does this and that and almost kind of directing the composition of the music the way that a choreographer would do, dealing principally with aspects of speed and dynamics. He was very good and very experienced and very helpful. I also had known Gene before. My wife was a friend of his wife and while we'd never worked together before it seemed as though I'd known him for quite a few years. I found him a very hard working guy. He could be a tough taskmaster where music was concerned. I enjoyed it. We got on very well. I felt instructed by him.
On Robert Altman:
We did a television series called "Kraft Theater." Bob was the director and I did many shows at Universal with him. I did several shows for Altman on the "Kraft Theater" and several pictures for him and he has been a close personal friend through the years. I will also say that indirectly through Stanley Wilson, and through Jennings Lang, being the vice president of the company, these two fellows introduced me to Steven Spielberg, and that was one of the more important connections in my professional and personal life. They also introduced me to Alfred Hitchcock, for whom I did "Family Plot," which was the last film he made.
On Alfred Hitcock:
We could have another whole conversation on that relationship because it was filled with wonderful stories. I used to have lunch with him alone and we'd talk about the film for about five minutes and then he would speak to me, knowledgeably about the state of British music. He was enormously interested in British music from between the wars, of Vaughn Williams, Benjamin Britton, William Walton, and others. He knew their work and knew what was happening in British music and was greatly interested in it. He knew British theater as well. He was a man full of marvelous stories and history. It was a great experience being in his presence. He was a lover of Elgar, I think, more than anything. He talked about Elgar and Holst all the time and was very interested in Walton. He had such detail at the tip of his fingers of all things theatrical in London in that particular period. As well as musical. He paid attention to all of this, and retained it all. Very impressive.
© Ray Bennett