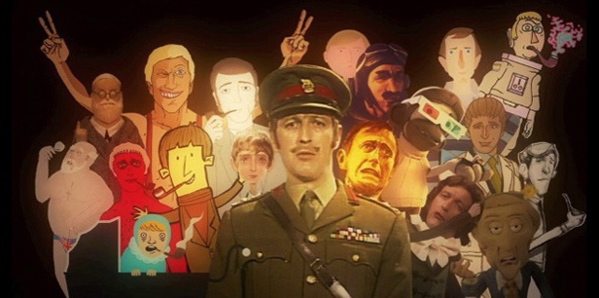 By Ray Bennett
The 37th annual Toronto International Film Festival gets under way on Sept. 6 with the world premiere of "Looper" and a slate that will include several new British movies including an animated tribute to Monty Python's Graham Chapman titled "A Liar's Autobiography".
With 150 films due for release in Q4, the major film festivals in Toronto and London set the scene for the awards season and the home entertainment slate for months to come.
TIFF's opening film "Looper" is a time-travel action thriller directed by Rian Johnson and starring Joseph Gordon-Levitt ("The Dark Knight Rises"), Bruce Willis, Emily Blunt, Jeff Daniels and Piper Perabo (pictured above). Entertainment One will release it in the UK on Sept. 28.
TIFF Artistic Director Cameron Bailey says he saw Johnson's debut feature "Brick" at the Sundance festival and was able to premiere his second, "The Brothers Bloom", in Toronto. "I was impressed by his ability to engage both the mind and the heart. Now, with "Looper", Rian has taken his filmmaking to a new level. This is a new kind of Opening Night: an exciting, thinking-person's action film from a director who really understands the genre."
Walt Disney's "Frankenweenie 3D" will open the 56th BFI London Film Festival on Oct. 10 with a gala screening at the Odeon Leicester Square in London that will go live to BFI Imax and 30 screens across the UK.
The Tim Burton animated film about a boy and a very strange dog named Sparky was made in the UK and has a voice cast that includes Catherin O'Hara, Martin Short, Martin Landau, and Winona Ryder.
BFI Exhibition Head Clare Stewart called the film from "one of cinema's great visionaries" a "gloriously crafted stop-motion 3D animation that revels in the magic of movies". She said, "Tim Burton has chosen London as his home city and hundreds of talented British craftspeople have contributed to this production."
Manchester-based puppet designers and fabricators Mackinnon & Saunders contributed to the film and their work along with props, sets and Burton's original sketches will be on display at "The Art of Frankenweenie Exhibition" that will run Oct. 17-21 at BFI Southbank Centre's Festival Village.
Sponsored by American Express, the BFI London Film Festival runs from Oct. 10-21. The full programme will be announced on Sept. 5.
Before that, however, comes TIFF, which has established itself as the driving force for Hollywood, independent and world cinema and as an event more attractive to producers and distributors than the Venice International Film Festival, which began Aug. 29 and runs through Sept. 8.
Festival de Cannes has honoured many films in its history but "The Artist" last year was only the second Palm d'Or winner to go on to win the Academy Award for best picture and Oscar-winning director Michel Hazanavicius says the buzz really kicked off when it screened at TIFF.
The festival announced 20 galas and more than 60 special presentations with around 50 world premieres across its various strands that include Masters, Mavericks, Rising Stars, Contemporary World Cinema and Midnight Madness.
TIFF CEO and Director Piers Handling says it will have the most diverse gala programme to date: "This year's festival is looking particularly strong with bold, adventuresome work coming from established and emerging filmmakers."
World Premieres from the UK will include Mike Newell's "Great Expectations" with Holiday Granger, Ralph Fiennes, Helena Bonham Carter and Jeremy Irvine ("War Horse"); Roger Michel's "Hyde Park On the Hudson" with Bill Murray and Olivia Williams as Franklin Delano Roosevelt and Samuel West and Olivia Colman as King George VI and Queen Elizabeth; Deepa Mehta's "Midnight's Children"; Dustin Hoffman's "Quartet" with Maggie Smith, Tom Courtenay, Billy Connolly and Pauline Collins as squabbling retired opera singers; Paul Andrew Williams's "Song For Marion" with Gemma Arterton as a choir director plus Terence Stamp and Vanessa Redgrave; and "A Liar's Autobiography – The Untrue Story of Monty Python's Graham Chapman", an animated 3D depiction of the late comedian's rich life.
Ben Timlett, one of the producers and directors of "A Liar's Autobiography", says that TIFF is "absolutely the best place to introduce this film", which he says reflects Chapman's writing, which was the most anarchic of Monty Python's comedy. He says, "The Toronto cinemagoing audience is steeped in Python, as really the first to discover it in that part of the world coupled with their link to the British colonial past. It means that Python has very much become part of their DNA."
Timlett says he's excited but "if I'm honest a little apprehensive to see if the Toronto audience will recognise and enjoy his return to the screen: "After Michael Palin saw the film a couple of weeks ago, he said Graham has been given a second chance to shock and disturb everyone, I can't see a better place to start this off but Toronto."
As producer, Timlett also has a film called "Theatre of Dreams" screening to buyers at Toronto. It's a fictional football story about how legendary Manchester United manager Matt Busby helps a wayward lad find his dream. He says, "Toronto is very much made up of a diverse audience led, filmgoers market. This film is funny and touching but also quirky and I think Toronto audiences will respond to it."
He's not alone among producers who praise the Toronto audience. Informant Producer Judy Cairo's film "Writers", directed by Josh Boone and starring Liana Liberato ("Truth"), Jennifer Connolly, Greg Kinnear, Lily Collins and Kristen Bell, will have its world premiere there. There was a gala screening of Informant's film "Hysteria" last year and Cairo says, "The TIFF audiences are famously warm and accepting. They didn't just applaud at the end, they roared and we had multiple offers for the film. Sony Pictures Classics bought it after SPC President Michael Barker heard our second public audience's laughter. It's a combination of amazing venues in convenient proximity to each other, the smart, vocal Toronto audience and the TIFF team's expertise that makes it all work."
Producer David Miller ("Amal") whose film "Blackbird", directed by Jason Buxton, will have its world premiere at TIFF this year, says: "Toronto is one of those benchmarks, one of those amazing opportunities that we all hope for, one of those seals of approval that we all strive to achieve."
Toronto-based producer Lewin Webb, whose film "I Declare War", directed by Jason Lapeyre and Rob Wilson, will have its debut, says: "TIFF understands mainstream cinema, commercial cinema, as well as the vibrant indie.  It isn't just a sophisticated festival, it is a smart festival and attracts amazing audiences.  It knows how to present films and how to support the films it presents."
This story appeared in Cue Entertainment.