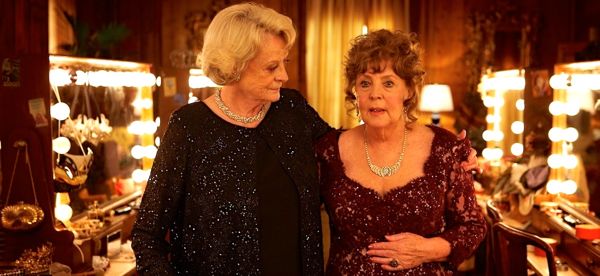 By Ray Bennett
TORONTO – Dustin Hoffman has worked with many of the best film directors so it's no wonder that some of their talents have rubbed off to make his debut film as director such a pleasure.
No question it's a film for the older generation although youngsters might enjoy the sharp delivery of Billy Connolly and Maggie Smith as two of the retired classical music singers in the title. The others are played by Tom Courtenay and Pauline Collins (pictured with Smith) and along with their director they make up a quintet of among the smoothest and most accomplished stars in the business.
Playwright Ronald Harwood, who adapted his own play for the film, also has very few rough edges. Nominated three times for the Academy Award with a win for "The Pianist" (2002) and four times for the Bafta Award with a win for "The Diving Bell and the Butterfly" (2007), his gift is for smart lines and small gestures that reveal character in without fuss.
He also has a sure touch with structure and with help from the beautiful cinematography of John de Borman ("An Education"), Hoffman plays it entertainingly adagio.
The setting is a retirement home for classical music artists and music-hall entertainers where lifelong pals Wilf (Connolly), Reg (Courtney) and Cissy (Collins) deal with the aches and pains of aging in the mostly agreeable company of their former colleagues and rivals.
Tranquility is threatened by the arrival of former opera great Jean (Maggie Smith), who was once married briefly to Reg but took away a part of his heart when she left. When the quartet is asked to re-unite for a gala fund-raiser, three are keen but one remains to be persuaded.
The economics of the lovely retirement home are best left alone and the residents appear to devote every waking moment to music as they attempt to relive past glories. No one here reads the news or watches TV.
With lots of knowing musical references, jokes about growing older and mortality, and the give-and-take of old folks who have to live together to make do, it's a genial show with no surprises. Connolly gets the best lines and he makes the most of them without doing an act and Smith delivers some tart rejoinders and asides, as you would expect. Courtney and Collins add the poignancy of lost love and memories as they slide away.
Bright young UK stage star Sheridan Smith plays the nurse in charge with winning charm and Michael Gambon has a fine old time as the hammy and egotistical gala director.
There's a bit of spirited swearing and an intriguing scene in which Reg tells a group of youngsters what opera has in common with hip-hop. The film is filled with music, mostly classical pieces with some original work from Dario Marianelli.
Several of the cast are retired performers. Welsh soprano Dame Gwynneth Jones plays a rival of Jean's and she sings beautifully in the gala show and there's a performance of songs made popular by English World War II music hall act Flanagan & Allen. Wisely, Hoffman does not force the four stars to sing or mime to others in the enjoyably constructed finale.
Opens: Jan. 4 (Momentum Pictures, UK / The Weinstein Co., US)
Cast: Maggie Smith, Tom Courtenay, Billy Connolly, Pauline Collins, Michael Gambon, Sheridan Smith, Andrew Sachs, Dame Gwyneth Jones, Trevor Peacock, David Ryall, Michael Byrne, Ronnie Fox, Patricia Loveland; Director: Dustin Hoffman; Screenwriter: Ronald Harwood, based on his stage play; Producers: Finola Dwyer, Steward Mackinnon; Associate producer: Mark Shivas; Executive producers: Jamie Laurenson, Dario Suter, Christoph Daniel, Marc Schmidheiny, Dickon Stainer, Xavier Marchand, Dustin Hoffman; Director of photography: John de Borman; Production designer: Andrew McAlpine; Music: Dario Marianelli Costumes: Odile Dicks-Mireaux; Editor: Barney Pilling; Production: BBC Films, DCM Productions presentation of a Headline Pictures, Finola Dwyer Productions production in association with Decca, HanWay Films;103 mins. Rating: TBA