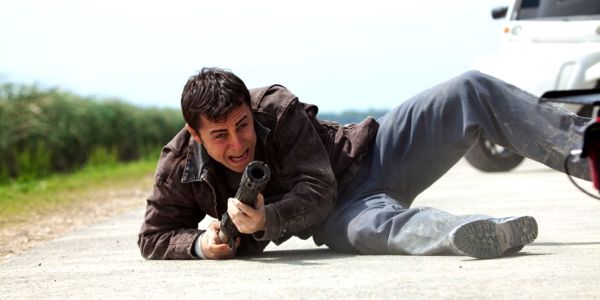 By Ray Bennett
TORONTO – Ryan Johnson's "Looper", which opened the Toronto International Film Festival, is a time-travel science fiction adventure that has plenty of action but still takes time to deal with human drama and ask existential questions.
It does not strive for spectacular visuals but it looks good and the 2042 settings of squalor and luxury do the trick. It's intelligent and exciting, and less about new-fangled gadgets and fancy weapons than it is about how to stay alive when the technology for time travel is owned by criminals.
Joseph Gordon Levitt (pictured above) stars as a "looper", which he explains in a voice-over is a guy armed with a blunderbuss who is paid to blow away bad guys who are transported back to earth from 30 years in the future.
Like an old western, there's the grizzled old guy who runs things, Abe (Jeff Daniels); his gang of thugs and one particular weasel named Kid Blue (Noah Segan); a friendly good-time girl, Suzie (Piper Perabo); an attractive single mother alone on her rundown spread, Sara (Emily Blunt), and a notorious stranger who comes to town, also named Joe (Bruce Willis).
In fact, the film makes clear quickly that both Joes are the same guy, just from time periods 30 years apart. Johnson, who wrote the script as well as directed, sensibly gives Abe and Older Joe lines to make it clear that time travel is a complex subject that will mess with your head. In other words, just go with it.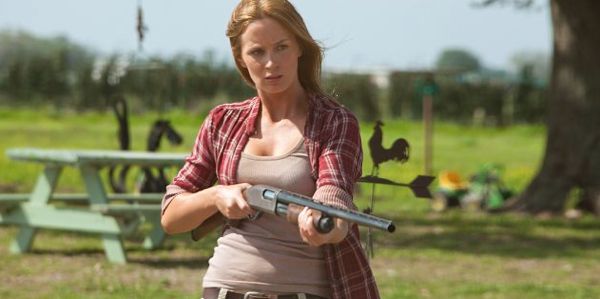 The film is energetically entertaining and its conceits are so persuasive that it's easy to go along. Still, it's wise to pay attention as Joe accumulates his bars of silver as the bodies pile up and he becomes increasingly bitter due to the nature of his job.
The story kick-starts when young Joe's best friend, Seth (Paul Dano) screws up a dispatch and they both go on the run from Abe's henchmen. Then, one of the guys looped back to earth turns out to be Joe, just older and looking more like Bruce Willis than he already does, which is quite a bit.
It's all played with great seriousness although Willis and Daniels have some funny lines, and they add considerable gravitas to the proceedings with nuanced professionalism.
Gordon-Levitt builds on his substantial contribution to "The Dark Knight Rises" with a performance that goes under the skin of a cold-blooded killer as Steve McQueen used to and Ryan Gosling did in "Drive".
Emily Blunt (pictured above) does the film and herself a huge favour and shows once again that there's no way she belongs in sappy romcoms. She's tough as they come as a rifle-toting momma determined to protect her young son although it transpires that the kid can take care of himself.
Johnson nurtures his surprises and breaks them cleverly as he delves deeper into the meaning of friendship and love. It's true that the time travel stuff might not add up. Don't think about it.
Opens: Sept. 28 (eOne UK, Sony US); Cast: Bruce Willis, Joseph Gordon-Levitt, Emily Blunt, Paul Dano, Noah Segan, Piper Perabo, Jeff Daniels, Pierce Gagnon; Director, writer: Rian Johnson; Producers: Ram Bergman, James D. Stern; Executive producers: Douglas E. Hansen, Julie Goldstein, Peter Schlessel, Joseph Gordon-Levitt, Dan Mintz; Director of photography: Steve Yedlin; Production designer: Ed Verreaux; Music: Nathan Johnson; Costume designer: Sharen Davis; Editor: Bob Ducsay; Production: Film District, Endgame Entertainment, DMG Entertainment, Ram Bergman Productions.119 mins. Rating: UK:15 / US: PG-13