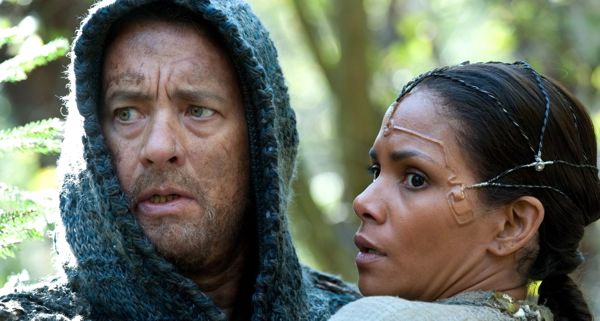 By Ray Bennett
TORONTO – It's big and bold and sometimes a bit silly but the film that Lana and Andy Wachowski and Tom Tykwer have made of David Mitchell's ambitious novel "Cloud Atlas" is seldom less than gripping.
The six stories from the novel that spans time and space and attempts to link the passage of the human spirit are painted on a huge scale with scenes ancient, modern and from the future. Characters are drawn and re-drawn as several actors play multiple roles in different eras to underscore the unique connection that human beings can have to one another.
This can be a distraction as familiar physiognomies become recognisable despite some pretty impressive makeup designs. Oh, look, it's Hugh Grant! That's Halle Berry again! That's never Tom Hanks. Oh, yes it is, and with an Oirish accent to boot.
Reincarnation is a premise central to the novel and the writer-directors stay faithful to it as stories are half-remembered and re-told in future generations. The tale begins and ends with an old man named Zachry (Hanks) who tells stories to his family's children in a place far, far away. A key chunk of the film shows how Zachry got to post-apocalyptic safe harbour thanks to a resourceful alien named Meronym (Berry, pictured with Hanks).
Elswhere, Hanks plays a doctor on a 19th century merchant sailboat traveling from New Zealand along with a young businessman (Jim Sturgess) who has fallen ill. The young man saves a black slave (David Gyasi) who has stowed away on the vessel and incurs the wrath of the captain (Jim Broadbent).
Broadbent shows up again as publisher Jim Cavendish in the 2000s as his brother contrives to have him incarcerated in a rest-home that's more like a prison. With some fellow inmates, Cavendish conspires to break out.
In the 1970s, thanks to the now older Sixsmith, a young reporter (Berry) stumbles across a conspiracy that involves big oil and nuclear power and a tycoon played by Hugh Grant. And in a tale that offers a traditional saviour story in the form of high-concept sci-fi. A Korean clone named Sonmi-451 (Boona Mae) attains martyrdom after a phenomenal warrior (Sturgess) tries to help her escape.
The arc is the story of a young composer named Robert Frobisher (Ben Whishaw) who strives to write a complex piece titled "Cloud Atlas" (written by Tykwer and regular collaborators Johnny Kimek and Reinhold Heil), mirrored by the six stories.
The film goes in and out of the tales so that Frobisher is seen first in a dalliance with close friend Sixsmith (James D'Arcy) and then working for an aging composer (Jim Broadbent) who tries to steal his work.
The Wachowski siblings reportedly directed the 19th century and sci-fi episodes while Tykwer directed the other three, although they all worked together on the script. The Wachowskis showed with "The Matrix" franchise that they know how to spin fantastical tales with great energy and imagination while Tykwer's gift for past-paced and epic filmmaking showed in "Run, Lola Run" and "Perfume".
You don't need to buy into the starry-eyed philosophy in order to enjoy the story-telling and once past the makeup the acting is top notch. Hanks plays both good and evil to great effect; Berry gets her career back on track with an assured performance; Whishaw is set to have a career as long and distinguished as Broadbent's; and Sturgess shows that while he can certainly do earnest, he also can handle furious action with the best.
Opens: UK: Feb. 23 (Warner Bros. Intl. / US: Oct. 26 (Warner Bros.) Cast: Tom Hanks, Halle Berry, Jim Broadbent, Hugo Weaving, Jim Sturgess, Doona Bae, Ben Whishaw, Keith David, Hugh Grant, Susan Sarandon; Directors: Lana Wachowski, Tom Tykwer, Andy Wachowski; Screenwriters: Lana Wachowski, Tom Tykwer, Andy Wachowski, based on the novel by David Mitchell; Producers: Lana Wachowski, Tom Tykwer, Andy Wachowski, Grant Hill, Stefan Arndt; Executive producers: Philip Lee, Uwe Schott, Wilson Qiu; Directors of photography: John Toll, Frank Griebe; Production designers: Uli Hanisch, Hugh Bateup; Music: Reinhold Heil, Johnny Klimek, Tom Tykwer; Costume designers: Kym Barrett, Pierre-Yves Gayraud; Editors: Alexander Berner, Claus Wehlisch; Visual effects supervisor: Dan Glass; Production: Cloud Atlas X-Filme, Creative Pool, Anarchos, in association with A Company and Ard Degeto; 171 mins. Rated: UK: TBA / US: R