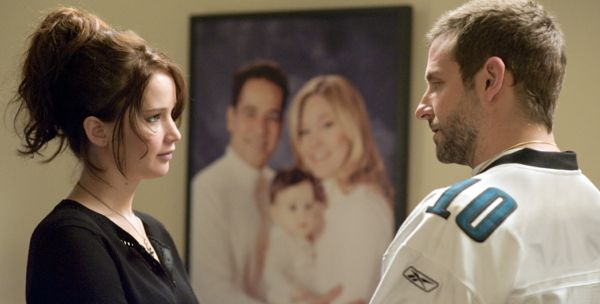 By Ray Bennett
TORONTO – So many things could go wrong in a comedy drama about mental illness that it's a credit to writer/director David O. Russell and an excellent cast that "Silver Linings Playbook" is such a winning success.
Touching but very funny, the story of a former teacher's attempts to get his life back on track after a bi-polar breakdown and his relationship with a temperamental and aggressive young woman works on every level. Masanobu Takayanagi's cinematography is fresh and vivid and composer Danny Elfman's score is typically witty.
As the couple, Bradley Cooper and Jennifer Lawrence cement their burgeoning careers with performances that show greater assurance and wider range, and their screen chemistry sizzles.
Cooper plays Pat Solitano, just back from a stint in an institution where he landed due to some anger management problems sparked by the discovery of his wife Nikki having sex in their bathtub with an older co-worker.
Back home with father Pat Sr. (Robert DeNiro) and mother Dolores (Jacki Weaver), Pat has lost weight, takes measures to stay fit and keep an even temper, and he is determined to win back his estranged wife.
Lawrence plays Tiffany, a sparky and forthright individual who finds Pat's new-found mental health mantras a challenge and starts to ambush him on his morning jog. Their prickly relationship forms the basis of the movie as one challenge leads to another in complicated and amusing ways.
Tiffany has her own goals to meet, namely a dance competition she has entered, and when her partner drops out she offers to help Pat in his campaign to woo back Nikki if he will step up to the dance floor.
Things get more difficult when Pat Sr., who has become a bookmaker in order to raise money to open a restaurant, risks everything on the outcome of a Philadelphia Eagles football game and his son's dancing contest.
The plot from the novel Matthew Quick hangs together solidly enough but it's Russell's grasp of quicksilver comedy and the talents of his cast that make it work. His work is back to the level of "Three Kings". Cooper and Lawrence deal confidently with the more serious aspects of their characters' problems and sparks fly thanks to their very smart comic timing.
DeNiro appears more involved than he has in many recent movies and he gives a very engaging performance as a loving father whose own peccadilloes, especially some very funny superstitions, have helped make his son the way he is.
New Zealand actress Weaver ("Animal Kingdom") makes a credible Philadelphia mom and Julia Stiles lends some pepper to her few scenes as Tiffany's older sister. Chris Tucker adds to the fun as a fellow patient of Pat's who checks himself out of the institution at will, and Anupam Kher makes a droll psychiatrist and fanatical football fan.
The film has the arc of a sports picture as everything in the end depends on an Eagles win and a big score for Pat and Tiffany's dancing, but the movie sheds all the clichés along the way. When Cooper and Lawrence shake their booties in the finale, audiences will be with them all the way.
Opens: Nov. 21 (UK: Entertainment / US: The Weinstein Co.)
Cast: Bradley Cooper, Jennifer Lawrence, Robert De Niro, Jacki Weaver, Anupam Kher, Chris Tucker, Julia Stiles; Director-screenwriter: David O. Russell, based on the novel by Matthew Quick; Producers: Donna Gigliotti, Bruce Cohen, Jonathan Gordon; Executive producers: Bob Weinstein, Harvey Weinstein, George Para, Michelle Raimo, Bradley Cooper; Director of photography: Masanobu Takayanagi; Production designer: Judy Becker; Music: Danny Elfman; Costume designer: Mark Bridges; Editors: Jay Cassidy, Crispin Struthers; Production: The Weinstein Co.; 117 mins. Rated: TBA