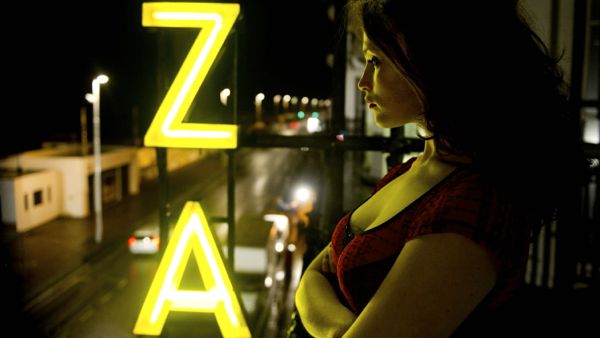 By Ray Bennett
TORONTO – It's brave of Irish film director Neil Jordan to take on a fresh vampire story given how crowded the market is for the undead but in "Byzantium" he has turned out a good old fashioned horror film.
With plenty of blood and a teenage romance, it might even appeal to fans of "The Twilight Saga" and "True Blood" although they tend to hold fiercely to strict boundaries and "Byzantium" breaks many of the rules.
Gemma Arterton  (pictured, "Tamara Drew", "Prince of Persia: The Sands of Time") and Saiorse Ronan ("Atonement", "Hanna") play 200-year-old vampires who each try to make their way through the modern world and find their required sustenance in their own sweet way.
For glamorous and sexy Clara (Arterton), that means strip clubs and harlotry with a supply of seedy and unpleasant men of whom it could be said they had it coming. To find her nutrition, the younger and more cerebral Eleanor (Ronan) prefers to appear as an angel of mercy to sickly old folks in pain.
It's a bloody mess anyway you look at it and the trail of dead bodies they leave means they are constantly on the move. For not only is the law on their case but also the vampire police in the form of black-suited men who represent a strict order of the undead for whom the female of the species is anathema.
Resourceful and always guarded Clara dispatches one of them in a splash of colour early on and the pair find refuge in a rundown seaside town where one of Clara's johns (Daniel Mays) happens to be a sympathetic man with a dead mum and a large empty hotel named Byzantium.
Clara takes over and turns the joint into a successful brothel, and life is good. But then Eleanor falls for a needy young man named Frank (Caleb Landry Jones) whose hemophilia as a result of leukemia treatment would seem to provide a handy source of her favourite beverage except she falls in love with him. And then there's the vampire police.
Jordan and screenwriter Moira Buffini, working from her play "A Vampire's Story") contrast the two women in more than appearance and personality as Clara only looks forward while Eleanor never stops looking back.
She writes their story constantly but tears up the pages because anyone who reads them will die. It allows the film to relate how they became vampires after orphan Clara was forced into prostitution. She encounters two navy officers, the brutal Ruthven (Jonny Lee Miller) and the kind Darvell (Sam Riley), who will play major roles in their lives.
RADA-trained Arterton continues to demonstrate a wide range as she gives Clara the ability to be soft and gentle and then abruptly savage with the swagger of the best male screen vampires. Ronan grows impressively and shows a core strength to go with the thoughtfulness of her character.
Miller's villain is credibly nasty while Riley conveys much of his character effectively through stillness. Jones ("The X-Men: First Class") makes Eleanor's sympathy for Frank understandable and Mays brings a touch of pity to the gullible hotel owner. Tom Hollander (TV's "Rev") makes an uncredited appearance as an unfortunately curious teacher.
The historical flashbacks involve a cave full of bats and a high waterfall that runs with blood and production designer Simon Elliott and cinematographer Sean Bobbitt use the black and red theme in the garish urban sequences to good effect.
Jordan has visited this territory before in "The Company of Wolves" (1984) and "Interview With the Vampire" (1994) and he brings to the movie the same accomplished filmmaking he devotes to his more serious pictures. He sensibly relies when he needs to on Javier Navarette's score, which suggests the appeal of darkness and the danger of sunlight with a mixture of musical moods. As so often in scenes of suspense, the composer does much of the heavy lifting.
Opens: TBA (UK: StudioCanal / US: IFC Films)
Cast: Gemma Arterton, Saoirse Ronan, Sam Riley, Jonny Lee Miller, Daniel Mays, Caleb Landry Jones, Tom Hollander (uncredited); Director: Neil Jordan; Screenwriter: Moira Buffini, based on her play "A Vampire's Story"; Producers: Stephen Woolley, Alan Moloney, Elizabeth Karlsen, William D. Johnson, Samuel Englebardt; Executive producers: Mark C. Manuel, Ted O'Neal, Sharon Harel-Cohen, Danny Perkins, Norman Merry; Director of photography: Sean Bobbitt; Production designer: Simon Elliott; Music: Javier Navarette; Costume designer: Consolata Boyle; Editor: Tony Lawson; Production companies: Number 9 Films, Parallel Films, Demarest Films; 118 mins. Rated: TBA