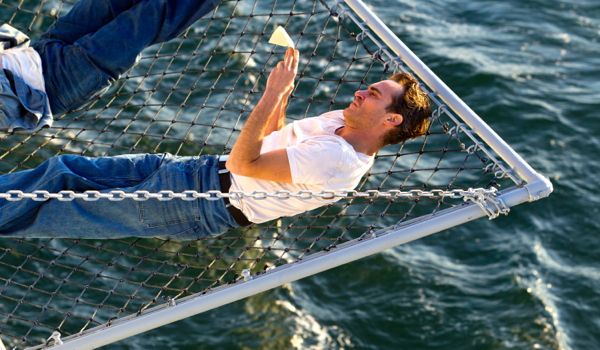 By Ray Bennett
TORONTO – Paul Thomas Anderson's complex and accomplished film "The Master" addresses the conflict between the puritan and hedonist traditions of the United States as it adjusts to its new potential and place in the world after World War II.
The two extremes are exemplified in the characters of Lancaster Dodd (Philip Seymour Hoffman, pictured below), a self-righteous authoritarian founder of a quasi-mystical cult, and Freddie Quell (Joaquin Phoenix, pictured above), a self-interested flouter of authority in search of personal freedom.
Their clash and recognition of the strengths and failings in each other that could be a mirror image form the basis of a film with no formal narrative arc, many strange happenings and an imponderable resolution. It is quite wonderful and awards contention awaits all involved.
Quell survives action in the Pacific but emerges from the war damaged physically and emotionally. He is discharged into a Steinbeck world in California of temporary jobs in a department store and amongst immigrant farm-workers. His gift is to be able to create mind-blowing moonshine from whatever fierce ingredients happen to be at hand, especially paint-thinner.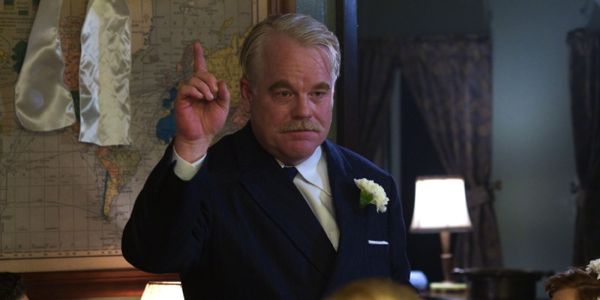 After he flees the unfortunate results of one such batch, he steals aboard a small cruise ship bound from San Francisco to New York via the Panama Canal. It turns out to be occupied by a gathering of people lured by Lancaster Dodd to join what he calls The Cause, which imposes strict behaviour aimed at the self-improvement of its members and the enrichment of its leader, who is called the Master.
When Quell is discovered, Dodd displays benevolence towards a man he views as a charming rogue but one who offers him not only a challenge but a ready supply of near toxic cocktails. Quell submits to Dodd's teachings and becomes a trusted aid as the vessel reaches New York and Dodd moves toward the release of his second volume of revelations into a gullible but ambitious world.
In writer and director Anderson's observant and insightful script, the two men vie as co-conspirators and adversaries as their individual natures, instincts and degrees of corruption combust. It becomes increasingly clear that while Dodd assumes the title by his sense of entitlement, the real Master is more likely to be the flawed but free spirited Quell.
Hoffman gives Dodd enormous charm that hides a kind of desperation with sharp and nasty outbursts while Phoenix brings to Quell a quite extraordinary posture, as if his back has been broken and his shoulders are forced forward, along with a composure that veers from detached but intense scrutiny to relaxed goodwill. It's hard to think of another character in movies quite like him.
Amy Adams is equally good as Dodd's apparently serene but utterly ruthless wife with good support from Ambyr Childers as Dodd's devious daughter, Rami Malek as his naive son-in-law, Jesse Plemons as his ineffectual son and Laura Dern as a sceptical devotee.
Anderson creates scenes that surprise constantly with imaginative images from cinematographer Mihai Malaimareh Jr. that capture seascapes, desert locations and interiors from production designers David Crank and Jack Fisk that add measurably to both tone and the wit of the piece. Composer Jonny Greenwood's score does much to amplify the claustrophobia of Dodd's tightly wrapped worldview and the messy freedom of Quell's.
Opens: US: Sept. 21, The Weinstein Co. / UK: Nov. 16, eOne; Due in the UK on Blu-ray and DVD from Entertainmentinvideo on March 13.
Cast: Joaquin Phoenix, Philip Seymour Hoffman, Amy Adams, Jesse Plemons, Laura Dern, Rami Malek, Ambyr Childers; Director and screenwriter: Paul Thomas Anderson; Producers: Paul Thomas Anderson, Megan Ellison, Daniel Lupi, JoAnne Sellar; Director of photography: Mihai Malaimare Jr.; Production designers: David Crank, Jack Fisk; Music: Jonny Greenwood; Costume designer: Mark Bridges; Editors: Leslie Jones, Peter McNulty; Executive producers: Ted Schipper, Adam Somner; Production: Annapura Pictures.
Rating: UK: 15 / US: R / 132 minutes