By Ray Bennett
The Barbican Centre in London has opened two new cinemas and announced a six-week programme of movies across five strands including one that covers the seven deadly sins.
The new venues, which are at street level on Beech Street, each have 156 seats to complement the refurbished Barbican Cinema 1, which has 288. The first addition to the Centre since it was opened in 1982 will include a restaurant and café.
The screens will show new releases including the upcoming James Bond film "Skyfall" (Sony Pictures, Oct. 26) as well as film classics and rarities. An exhibition titled "Designing 007: Fifty Years of Bond Style" (pictured) continues at the Centre.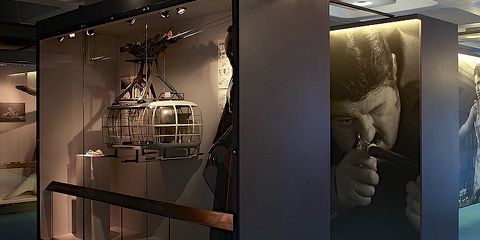 Barbican Managing Director Nicholas Kenyon said, "Film has always been a vital element of what we do, as an art form in itself and because of the role it plays within the Barbican as an arts centre. Our film offer allows our audiences to delve further into our programme of exhibitions, music, theatre and dance performances. "
All three cinemas have full digital projection and audio equipment including 3D as well as 35mm and 16mm film projection to reflect the centre's commitment to archive and world cinema, the Barbican said.
The film programme, under the umbrella title of Step Into the Dark, will include one in which people from the arts world select films that reflect the Seven Deadly Sins. Mike Leigh, Richard Ayoade, Andrea Arnold, Stephen Frears and Michael Nyman are among those to make a selection.
Other strands will include Every Day I Have the Blues with jazz and blues films to complement the London Jazz Festival in Barbican Hall; Dark Heart of Fairy Tales; Suppression / Expression, which includes political films from the '60s and '70s; and Silent Horror and Live Music, which features German Expressionist silent films. There also will be the inaugural Framed Film Festival in which children and teenagers will have the chance to see, make and dissect films.
The Barbican said: "The new cinemas will create a hub for the film community and are a key addition to the burgeoning cultural quarter which also includes the Guildhall School's superb new emerging building at Milton Court (which will open in September 2013), the church of St Giles Cripplegate, and LSO St Luke's on Old Street – contributing to the development of an increasingly lively area within the City of London."
Seven Deadly Sins invites famous names from the film and arts worlds to choose a film to match a sin, with each screening followed by a conversation with the artist:
· Sam Taylor-Wood | ENVY | The Talented Mr Ripley (dir Anthony Mingella, US 1999) | Fri Nov 2
· Nick Broomfield | SLOTH | Woman of the Dunes (dir Hiroshi Tehigahra, Japan 1964) | Sun Nov 4
· Richard Ayoade | SLOTH | The Graduate (US 1967 Mike Nichols) | Mon Nov 5
· Zbigniew Preisner | PRIDE | A Short Film About Killing (dir Kryzsztof Kieslowski, Poland 1989) | Sun Nov 11
· Marcos Jorge | GLUTTONY | Estômago: A Gastronomic story (dir Marcos Jorge, Brazil/Italy 2007) | Mon Nov 12
· Declan Donnellan | LUST |, Le Plaisir (dir Max Ophüls, France 1949) | Sat Nov 17
· Kazuo Ishiguro | PRIDE | La Silence De La Mer (dir Jean-Pierre Melville, France 1949) | Mon Nov 19
· Andrea Arnold | WRATH | Carrie (dir Brian de Palma, US 1976) | Wed Nov 21
· Stephen Frears | WRATH | Fish Tank (dir Andrea Arnold, UK 2010) | Fri Nov 23
· Jake and Dinos Chapman | LUST | The Offense (dir Sidney Lumet, UK/US 1972) | Sun Nov 25
· Mike Leigh | GREED | Baby Face (dir Alfred E Green, US 1933) | Mon Nov 26
· Vivienne Westood | GLUTTONY | Blow-Out (La grande bouffe) (dir Marco Ferreri, Italy 1973) | Thur Dec 6
· Michael Nyman , LUST | Silent Light (dir Carlos Reygadas, Mexico 2007) | Sun Dec 9
This story appeared in Cue Entertainment.