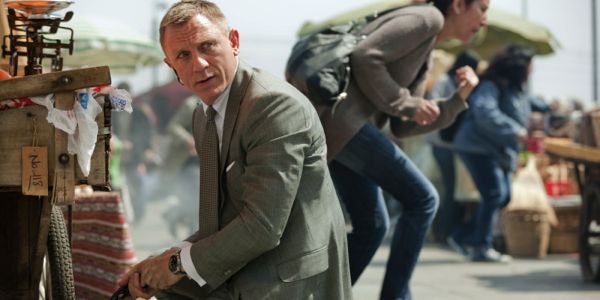 By Ray Bennett
LONDON – The UK box office is on track for record receipts this year thanks to James Bond and 3D pictures and in spite of competition for audiences from the royal jubilee and the London Olympiad.
The Film Distributors' Association said that cinema ticket sales crossed the £1 billion mark in the 45th week of the year after UK distributors invested more than £300 million release 567 new titles, almost as many as in all of 2011, which saw a total of 577.
It noted that ticket sales last year reached £1.03 billion from 171.5 million admissions, the third highest admissions total in the last two decades.
FDA President David Puttnam said: "UK cinema is ending 2012 in barnstorming style. The box-office is heading for a new record with every chance the momentum will be maintained well into the New Year. Audiences who crave cutting-edge entertainment over the holiday season need look no further than their local cinemas."
UK moviegoers spent £53.2 million to go to the movies in the last week of October, almost as much as in all of September, thanks to the Sony Pictures release "Skyfall", which has sold more than 14 million tickets.
The FDA said that five of the Top 10 movies to date were released in both 3D and standard digital formats and £1 of every £6 spent on tickets went for 3D screens. Disney's release of Marvel's "Avengers Assemble" was the most popular of the 39 films released in 3D so far this year. In all of 2011, 47 3D films went on release.
The second week of the Diamond Jubilee bank holiday in June was the second best week for moviegoing so far while the Olympics did not hurt ticket sales as much as earlier feared. The first week of the games in August ranked 12th for cinema ticket sales to date and the second week ranked sixth.
The FDA said box office receipts are running 1% ahead of the same point in 2011 with some big titles still to come such as Peter Jackson's "The Hobbit: An Unexpected Journey", Tom Cruise in "Jack Reacher", Ang Lee's "Life of Pi", the comedy sequel "Nativity 2: Danger in the Manger" and Mike Newell's version of "Great Expectations". It noted that "The Twilight Saga: Breaking Dawn Part 2", which eOne released on Nov. 16, will secure a position in the full year's Top 10 titles.
The FDA said that one in seven British adults go to the cinema at least once a month and with approximately 1% of the world's population, the UK accounts for 7% of the world's cinema box-office receipts and one-fifth of the box-office in Europe.
The UK's eight million 15–24 year-olds go to the movies the most, on average six times a year –but one quarter of annual audiences are aged over 45.
This story appeared in Cue Entertainment.