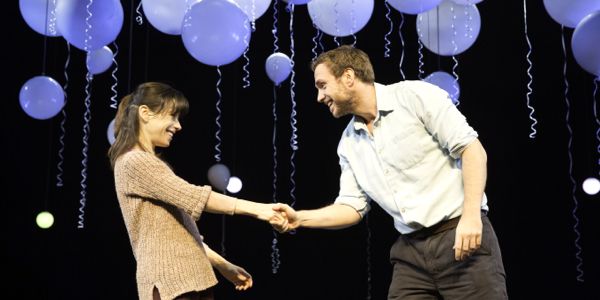 By Ray Bennett
The infinite variety of chance and choice is the subject of Nick Payne's funny and touching 70-minute play "Constellations" at the Duke of York's Theatre in which Sally Hawkins and Rafe Spall spin considerable enchantment.
The chance is that Marianne (Hawkins) and Roland (Spall) will meet and the choice is what they will say. Payne wonders what would happen if she said one thing and he another, and if he said something else and her response was different.
It's "Sliding Doors" taken to extremes as Marianne posits that there might be any number of parallel universes in which the path of two lives is different from this one, or that one, in an endless variety.
Designer Tom Scutt uses simply balloons to suggest effectively the vast range of things that might pop out of people's mouths at any given time. In a stop-start fashion in which the characters repeat encounters and amend what they say, the possibilities unfold.
The way they describe their lives to each other on first meeting influences what will happen next. One is married and in the next exchange speaks of divorce. What they say they do for a living changes from meeting to meeting, so too their stories of past and present lovers.
In the present universe, they meet and move in together and one cheats on the other and she becomes ill, and in other universes other things take place.
It might sound confusing, but it's not since Payne and director Michael Longhurst get the rhythm just right and the pattern becomes clear very early. The play debuted in January at the Royal Court to very good reviews and Payne's "If There Is I Haven't Found It Yet", starring Brian F. O'Byrne and Jake Gyllenhaal, is at the Laurel Pels Theater in New York until Dec. 23.
Hawkins ("Submarine", "Happy Go Lucky") plays Marianne as nimble, quick-witted and saucy while Spall ("Prometheus", "Life of Pi") makes Roland sturdy but vulnerable and sometimes confused. They make a charming couple, and between the laughter and the tears there is a serious reminder that in new encounters it's best to watch your tongue.
Venue: Duke of York's (runs through Jan. 5); Cast: Sally Hawkins, Rafe Spall; Playwright: Nick Payne; Director: Michael Longhurst; Designer: Tom Scutt; Lighting designer: Lee Curran; Music: Simon Slater; Sound designer: Davd McSeveney; Producers: Royal Court Theatre Productions / Ambassador Theatre Group.
Photo: Johan Persson