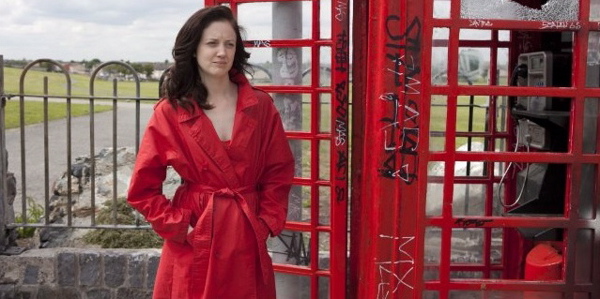 By Ray Bennett
Andrea Riseborough was named best actress for "Shadow Dancer", Toby Jones won as best actor for "Berberian Sound Studio" and "Broken" picked up the best British film prize at the 15th British Independent Film Awards.
Riseborough (pictured) plays a mother forced to spy on her IRA family for a British operative played by Clive Owen in "Shadow Dancer", which Paramount Pictures will release on DVD on Jan. 14.
Jones plays a sound designer who works for a company that makes horror films in "Berberian Sound Studio", which Artificial Eye will release on DVD and Blu-ray on Dec. 31. The picture won four BIFAs including best director for Peter Strickland, best technical achievement for sound designers Joakim Sundstrom and Stevie Haywood, and best achievement in production.
"Broken", which StudioCanal will release, also won the best supporting actor prize for Rory Kinnear. Cillian Murphy and Tim Roth star in the drama about violence in a North London community.
Olivia Colman won the best supporting actress prize as Queen Elizabeth opposite Samuel West as King George VI in "Hyde Park On Hudson", which Universal Pictures will release in UK cinemas on Feb. 1). Bill Murray stars as US President Franklin Delano Roosevelt in the film, which tells of the royal visit to boost US support for the British war effort in 1939.
"The Imposter", a documentary about a teenager who pretends to be the missing son of a Texas family, won two awards for best documentary and best debut director Bart Layton. Released theatrically by Picturehouse / Revolver in August, it will be on DVD and Blu-ray Disc on Jan. 7.
Dark comedy "Sightseers", which StudioCanal released in UK cinemas on Nov. 30, won for best screenplay by co-stars Alice Lowe and Steve Oram, and Amy Jump. Danish drama "The Hunt" starring Mads Mikkelsen, which Arrow Films released in cinemas here on Nov. 30, won the award for best international independent film.
BIFA Directors Johanna von Fischer and Tessa Collinson said the range of films honoured proved that 2012 had been a strong year for British independent film and said the awards "continue to highlight the extraordinary talent that is so plentiful within British independent filmmaking today".
The BIFAs, sponsored by Moët, were handed out at a ceremony hosted by actor James Nesbitt at Old Billingsgate in London on Dec. 8. Presenters included Idris Elba, John Hurt, Terry Gilliam, Jared Harris, Rufus Sewell, Alicia Vikander and Noomi Rapace.
This story appeared in Cue Entertainment. A list of winners follows:
Winners of the 15th Moët British Independent Film Awards:
Best British Independent Film: "Broken" (StudioCanal)
Best Director: Peter Strickland, "Berberian Sound Studio" (Artificial Eye)
Best Actor: Toby Jones, "Berberian Sound Studio"
Best Actress: Andrea Riseborough, "Shadow Dancer" (Paramount Pictures)
Best Supporting Actor: Rory Kinnear, "Broken" (StudioCanal)
Best Supporting Actress: Olivia Colman, "Hyde Park on Hudson" (Universal Pictures)
Best Screenplay: Alice Lowe, Steve Oram and Amy Jump, Sightseers (StudioCanal)
Best International Independent Film: The Hunt (Arrow Films)
Best Documentary: The Imposter (Picturehouse / Revolver)
Best Technical Achievement: Joakim Sundstrom and Stevie Haywood (sound design), "Berberian Sound Studio"
Best Debut Director: Bart Layton, "The Imposter"
Most Promising Newcomer: James Floyd, "My Brother the Devil" (Verve Pictures)
Best Achievement in Production: "Berberian Sound Studio"
Raindance Award: "Strings" by Rob Savage (Vertigo Films)
Variety Award: Jude Law
Richard Harris Award: Michael Gambon
Special Jury Award: Sandra Hebron, former BFI London Film Festival artistic director.
This story appears in Cue Entertainment