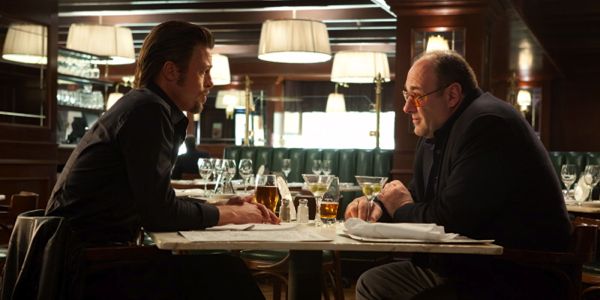 By Ray Bennett
Andrew Dominik's "Killing Them Softly", starring Brad Pitt, is a crime picture with punks, hoodlums, and hit-men but it's really about banking and the callous, ruinous way Wall Street cowboys go about their selfish business.
J.C. Chandor's excellent 2011 movie "Margin Call" depicted a financial meltdown within an investment bank. Dominik's film takes a similar story and plonks it in mob territory in the wasteland of post-Katrina New Orleans.
The film, which was in competition at this year's Festival de Cannes, was released in theatres in September and will be on Blu-ray Disc and DVD in the UK on Feb. 25.
It has disappointed a lot of Brad Pitt fans because it's not a conventional gangster picture even though it has several scenes of extreme violence. Just as "The Godfather" was about politics, "Straw Dogs" was about the Vietnam War, and Dominik's masterpiece "The Assassination of Jesse James by the Coward Robert Ford" was about fame, "Killing Me Softly" is about money as the root of evil.
It is based on the 1974 novel "Cogan's Trade" by the late George V. Higgins, a former prosecuting attorney who wrote a series of idiosyncratic crime stories filled with richly detailed conversations between low-lifes in Boston. The best known is "The Friends of Eddie Coyle", which Peter Yates filmed in 1973 with Robert Mitchum, Peter Boyle and Richard Jordan.
Dominik, who adapted the novel for the screen, places television coverage of the recent banking crisis in the foreground with speeches from politicians that range from naive to cynical to idealistic. He cuts to the bone with his depiction of how the same heinous greed in men driven by hubris and ego plays out amongst bad guys with guns.
Ray Liotta plays a mob guy named Markie who oversees a big-money poker school that is robbed at gun-point and when he foolishly boasts that he organised the robbery himself everyone laughs and let's it go. But a fellow hoodlum played by Vincent Curatola from "The Sopranos" sees that if someone else were to raid the gambling den a second time then Markie would get the blame.
He hires a callow thief named Frankie (Scoot Mcnairy) to do the robbery and he brings along his flakey and permanently stoned Australian mate Russell (Ben Mendelsohn). When they get away with it, a mob middleman (Richard Jenkins) turns to fixer and enforcer Jackie Cogan (Pitt) to sort it out.
They are all identifiable types from the revelations about Wall Street and City and the lies, double-dealing and back-stabbing, and complete disregard for anything that resembles civilized behaviour. James Gandolfini (pictured with Pitt) plays an over-extended and dissolute hit man whom Cogan manipulates blithely into a violent meltdown, thankfully offscreen, with one of his many hired women.
Dominik's dialogue is crisp and savvy and his images show the banality of the characters with heightened effects to convey their inflated sense of themselves. He draws first-rate performances from the entire cast, with Pitt as good as he was in "Jesse James". He has terrific help from cinematographer Greig Fraser, production and costume designer Patricia Norris and editor Brian A. Kates. Marc Streitenfeld provides evocative piano pieces on the soundtrack and the director uses Johnny Cash's "The Man Comes Around" and sentimental standard ballads with considerable irony.
The film's title is taken from a beautiful song but that is not heard. Cogan uses the phrase to describe how he prefers to deal with his victims, from a distance so he doesn't have to listen to their cries and deal with the mess. Much like drone-missile operators and corrupt bankers.
Opened: Friday, Sept. 21; UK: Entertainment; US: The Weinstein Co.; Cast: Brad Pitt, Scoot McNairy, Ben Mendelsohn, Richard Jenkins, James Gandolfini, Ray Liotta, Vincent Caratola; Director: Andrew Dominik; Screenwriter: Andrew Dominik, based on the novel "Cogan's Trade" by George V. Higgins; Director of photography: Greig Fraser; Production and costume designer: Patricia Norris; Music: Marc Streitenfeld; Editor: Brian A. Kates; Producers: Brad Pitt, Dede Gardner, Steve Schwartz, Paula Mae Schwartz, Anthony Katagas; Executive producers: Megan Ellison, Matt Butan, Bill Johnson, Jim Seibel, Adi Shankar, Spencer Silna; Production: Plan B, Chockstone Pictures
UK rating: 18; US rating: R; 97 minutes.