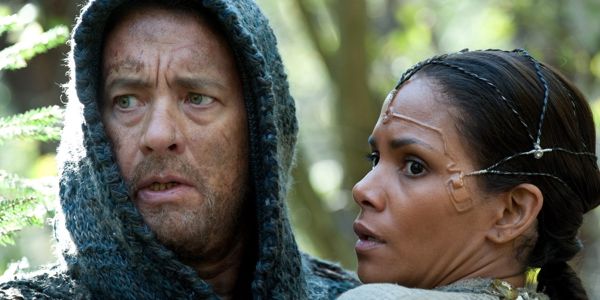 By Ray Bennett
The barrage of outdoor summer entertainment did not have the negative impact on moviegoing the industry feared and with awards season under way prospects for Q1 look good.
The directors of Warner Bros.' upcoming "Cloud Atlas", an epic mix of history, modern drama and science-fiction, told the world premiere audience at the Toronto International Film Festival that their aim was to both entertain and engage audiences.
"One of the things that unites us very profoundly in our idea of what we're doing is it can be so crazy and experimental and mind-opening, and yet so popular," said Tom Tykwer ("Run, Lola Run"), who made the picture with the Wachowski siblings ("The Matrix").
His comment reflected much of what was on show at TIFF and will show up in the UK in Q1 2013 on disc (see New Release feature) and in cinemas. With Sony Pictures' "Skyfall", eOne's "The Twilight Saga: Breaking Dawn Part 2" and Warner's "The Hobbit: An Unexpected Journey" all a smash with audiences, industry representatives expect Q4 to make up for a slight box office dip due to London 2012 and other distractions over the summer.
Cinema Exhibitors' Association CEO Phil Clapp says, "I think we're just a couple of percentage points down on where we were in 2011 and while this summer was inevitably down on last year, it was not as poor as many feared. I'm confident we'll make up that shortfall and then some."
Clapp is positive about the first quarter lineup: "The release schedule promises an exceptionally broad range of quality films with recognised names, and taken together they are likely to realise a significant return at the box office."
TIFF fired the starter's pistol on awards season and Film Distributors' Association Director General Mark Batey notes that "the 2013 awards corridor is acutely compressed and competitive" with the Golden Globes on Jan. 13 (nominations announced Dec. 13), the Bafta Film Awards on Feb. 10 (nominations Jan. 9) and the Oscars on Feb. 24 (nominations Jan. 10).
Batey notes that Q1 2012 saw 40.5 million UK admissions and he says Q1 2013 will enjoy a dynamic inheritance from this year's fourth quarter: "The couple of weeks from Boxing Day are usually very good for business. The theatrical market is driven by content and the extent to which its professional distribution connects it with target audiences, and diverse hold-overs from December such as 'The Hobbit', 'Jack Reacher' and 'Life of Pi' will continue to play strongly in January alongside the slate of new releases."
Besides the big awards, Batey notes that the quarter will include Valentine's Day, the February half-term break and the start of the Easter holidays: "With a huge distribution commitment to film prints and marketing, we're confident that UK cinemas' powerful momentum of Q4 will be maintained through Q1."
Clapp is right that the New Year will bring plenty of familiar faces. "Cloud Atlas" (Feb. 22) stars Tom Hanks, Halle Berry, Hugh Grant, Jim Broadbent, Jim Sturgess and Ben Whishaw. Based on the novel by David Mitchell, the film relates six stories that span time and space and attempt to link the passage of the human spirit on a huge scale with scenes ancient, modern and from the future.
Daniel Day Lewis, Tommy Lee Jones and Sally Field star in Steven Spielberg's historical drama "Lincoln" (Fox, Jan. 25). Ewan McGregor and Naomi Watts are in the tsunami thriller "The Impossible" (eOne, Jan. 4). Maggie Smith, Billy Connolly, Tom Courtenay and Pauline Collins star in Dustin Hoffman's tale of retired musicians, "Quartet" (Momentum, Jan. 4). Leonardo DiCaprio, Jamie Foxx, Christoph Waltz and Samuel L. Jackson star in Quentin Tarentino's slavery western "Django Unchained" (Sony, Jan. 18). Anthony Hopkins and Helen Mirren star in "Hitchcock" (Fox, Feb. 8) as the famed movie director and his wife and collaborator and the Monty Python gang are on hand for the 3D animated ""A Liar's Autobiography of Monty Python's Graham Chapman", which covers the life of the late comedian.
There's more sci-fi in Universal's "About Time" (March 22), a time-travel adventure written and directed by Richard Curtis ("Love Actually") with Rachel McAdams, Bill Nighy and Tom Hollander, and Momentum's "Robot & Frank" (March 8), about a father and son with a robot butler who turn to crime, with Peter Sarsgaard, Frank Langella, Susan Sarandon and Liv Tyler. Entertainment's "The Host" (March 29) stars Saoirse Ronan ("Hanna"), Diane Kruger ("Inglourious Basterds") and William Hurt in a tale of intimate alien invasion based on a novel by Stephanie Meyer, who wrote "Twilight". The writer and director is Andrew Niccol, who wrote "Gattaca" (1997), "The Truman Show" (1998) and "The Terminal" (2004). Mila Kunis, Michelle Williams and Rachel Weisz star in Disney's "Oz: The Great and Powerful" (March 8), a prequel to "The Wizard of Oz" directed by Sam Raimi ("Spider-Man") with James Franco as Oz.
Some of the biggest action stars are busy in Q1 with Arnold Schwarzenegger in his first starring role in 10 years in Lionsgate's "The Last Stand" (Jan. 25). He plays a local sheriff in a town near the Mexican border who must try to apprehend a drug cartel leader who has fled from captivity. Directed by South Korean Jee-woon Kim ("A Bittersweet Life"), the film co-stars Eduardo Noriega, Jaime Alexander, Harry Dean Stanton and Forest Whitaker.
Sylvester Stallone plays a hit-man who links with the police to find the thug who kidnapped his daughter in eOne's "Bullet to the Head" (Feb. 1). Walter Hill ("48 Hrs") directs with a cast that includes Jason Momoa ("Crown of Thorns") and Christian Slater. Bruce Willis returns as resourceful cop John McClane in the sequel 20th Century Fox's "A Good Day to Die Hard" (Feb. 15). This time, he and his son take on the local mob in Russia. Jai Courtney, who was Varro in TV's "Spartacus: Blood and Sand" and also is in Tom Cruise's "Jack Reacher", co-stars.
Jason Statham takes on one of the great hard-boiled anti-heroes in eOne's "Parker" (Jan. 25), based on the character created by Donald Westlake in his Richard Stark novels. Taylor Hackford ("Ray") directs the tale of a strict and unforgiving man who goes to collect what's owed to him by fellow crooks.  Several tough-guy actors have had the role with different names: Lee Marvin as Walker in John Boorman's "Point Blank" (1967), Robert Duvall as Macklin in John Flynn's "The Outfit" (1973) and Mel Gibson as Porter in Brian Helgeland's "Payback" (1999).
Two postponed action films from Paramount show up in Q1: "Hansel and Gretel: Witch Hunters" (March 15, see Cue January 2012) with Jeremy Renner and Gemma Arterton in a very different take on the fairy tale; and the sequel "G.I. Joe: Retaliation" (March 29) with Channing Tatum, Walton Goggins, Dwayne Johnson, Adrianne Palicki and Bruce Willis up against Cobra and a threat from within.
Warner's crime picture "Gangster Squad" (Jan.11) also was postponed in order to change a key scene that echoed the shooting episode in a cinema in Colorado when many in the audience were murdered. Sean Penn plays hoodlum Mickey Cohen as a special unit of the Los Angeles Police Department turns violent to keep East Coast gangsters away in the 1950s. Drawn from real events, the movie stars Josh Brolin, Ryan Gosling, and Emma Stone with Nick Nolte, who starred in another film with a similar theme, "Mulholland Falls" in 1996, with Penn's late brother Chris. There's more crime in StudioCanal's "Broken City" (Jan. 25) as ex-cop Mark Wahlberg gets into a scandal that involves New York Mayor Russell Crowe. Catherine Zeta-Jones co-stars for director Allen Hughes (who directed "Menace II Society", 1993, with his brother Albert). Momentum's "Welcome to the Punch" (March 15) sees James McAvoy, Mark Strong, David Morrissey and Andrea Riseborough in the story of a London detective who is determined to finally catch a newly released violent criminal.
Thrillers in the quarter include Universal's "Zero Dark Thirty" (Jan. 25), the first film for Kathryn Bigelow since she became the first female director to win an Academy Award, for "The Hurt Locker" in 2008. Chris Pratt ("Wanted"), Taylor Kinney ("Trauma"), Joel Edgerton ("Animal Kingdom") and Jessica Chastain ("The Help") co-star in the story of how a US Navy SEAL team found Osama bin Laden. Robert Zemeckis, who won the Oscar as best director for "Forrest Gump" in 1994, makes his first live action picture in a decade: Paramount's "Flight" (Feb. 1). Denzel Washington plays an airline pilot who prevents a plane crash but has a guilty secret. Gael Garcia Bernal stars in Pablo Larrain's tale of desperate politics in Chile under tyrant Pinochet in "No" from Network Releasing on Feb. 8.
John Goodman, Don Cheadle, Kelly Reilly ("Sherlock Holmes") and Nadine Velazquez ("My Name Is Earl") co-star. Channing Tatum and Catherine Zeta-Jones show up again with Rooney Mara ("The Girl with the Dragon Tattoo"), Jude Law and Vinessa Shaw ("Two Lovers") in eOne's "Side Effects" (March 15). Steven Soderberg directs the tale of a woman who resorts to prescription drugs when her husband is due for release from jail. Francois Ozon directs Kristin Scott Thomas and his "Potiche" star Fabrice Luchini in Momentum's "Dans la Maison" (March 29) about a teenaged boy who writes in school essays about how he has gained entry into the family of one of his fellow students. A team of illusionists put on a show while they rob banks and give the money to their audience in eOne's "Now You See Me" (March 29). Louis Leterriere ("The Transporter") directs Jesse Eisenberg ("The Social Network"), Mark Ruffalo, Michael Caine, Morgan Freeman and Woody Harrelson.
January will see the offbeat drama "The Sessions" (Fox, Jan. 11) with John Hawkes as a man in an iron lung who seeks to have his first sexual experience with a surrogate played by Helen Hunt; a comedy titled "21 and Over" (Momentum, Jan. 11); two 3D films – horror title "Texas Chainsaw 3D" (Lionsgate, Jan. 4) and Disney's "Monsters Inc." (Jan. 18); and the film version of the stage musical "Les Miserables" (Universal, Jan. 11).
This story appeared in the December 2012 issue of Cue Entertainment