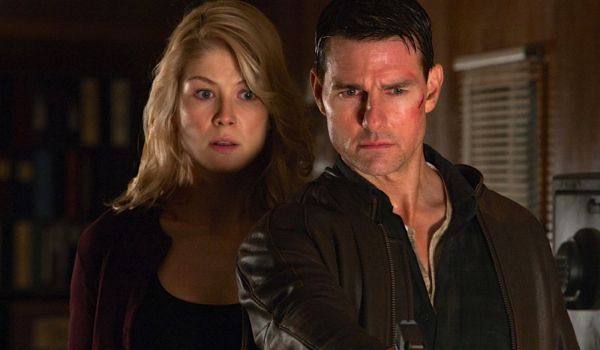 By Ray Bennett
For the millions of fans of crime writer Lee Child's bestselling novels, Jack Reacher is 6-foot-5 with a barrel chest and fists like hams. Tom Cruise is not.
For the majority of Cruise fans who have not read the books, this is irrelevant. As producer, the star has simply bought himself a mystery story and a character who is a gifted detective and an unstoppable force.
Director and writer Christopher McQuarrie (who won an original screenplay Oscar for "The Usual Suspects", 1995) has turned Child's novel "One Shot" into a vehicle for Cruise but it's an average crime picture with little excitement or suspense.
The over-elaborate plot tells of a sniper incident in which several people are murdered to obscure the death of one of them. The film opens with a lengthy and gratuitous depiction of these shootings and the arrest of a man who is beaten into a coma but has time to ask someone to call Jack Reacher.
Media coverage has drawn Reacher to the scene; a man who lives an aimless existence after a career as a brilliant military investigator. He and the accused have a history and Reacher assumes he is guilty but once he takes a look at the crime scene he changes his opinion and reassures earnest and beautiful lawyer Helen Rodin (Rosamund Pike, pictured with Cruise) that her client is a patsy.
Richard Jenkins plays the lawyer's district attorney father and David Oyelowo is a slick cop, and Reacher decides that one of them is crooked. He unravels a real estate conspiracy that includes corrupt local politicians with gangsters led by a cartoon villain named the Zec, played by film director Werner Herzog.
One-eyed and lacking several fingers, the Zec manages to run a squad of tough guys, most of whom have to face Jack Reacher before the 130-minute film is over. There is a car chase that ticks the right boxes and the final shoot-out in torrential rain at a remote quarry has its moments. Robert Duvall shows up as a rifle-range owner to give Reacher a sidekick during the climax, which if not at all logical is at least predictable. Caleb Deschanel's cinematography makes the most of the cityscapes and the murk and Joe Kraemer's music is effective.
Cruise is a terrific action film star in his "Mission: Impossible" films and pictures such as Michael Mann's "Collateral" but only vanity can have caused him to think he should play Reacher. He's in great shape for 50 but he's not the kind of imposing figure that would make thugs think it would take five of them to take him on. After a young woman is killed by a single punch, the cops ask witnesses if they've seen anyone they thought could do that and they indicate Cruise, but he is not that guy. Lamest of all, there's a scene in a hotel room in which the impeccable Ms. Pike tells Reacher, naked from the waist up, if he would kindly put on his shirt so she can concentrate. Please.
Opens UK: Dec. 26, Paramount Pictures; Cast: Tom Cruise, Rosamund Pike, Richard Jenkins, David Oyelowo; Werner Herzog; Jai Courtney; Robert Duvall. Director and writer: Christopher McQuarrie, based on the novel "One Shot" by Lee Child; Producers: Tom Cruise, Don Granger, Paula Wagner, Gary Levinsohn; Director of photography: Caleb Deschanel ; Production designer: James D. Bissell; Music: Joe Kraemer; Costumes: Susan Matheson; Editor: Kevin Stitt; Executive producers: Jake Meyers, Ken Kamins, Kevin Messick, David Ellison, Dana Goldberg, Paul Schwake; Production: Mutual Film Company, Paramount Pictures, Skydance Productions. Rating: UK: TK; US: PG-13, 130 minutes.