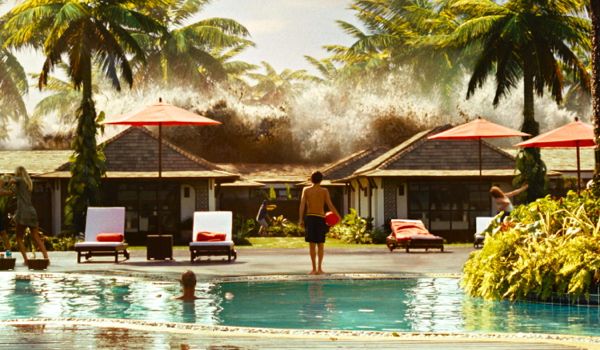 By Ray Bennett
TORONTO – Based on a true story about a Spanish family caught up in the ferocious 2004 Indian Ocean tsunami, "The Impossible" is terrifying and moving with best-ever performances by stars Naomi Watts and Ewan McGregor.
Spanish filmmaker Juan Antonio Bayona brings to the realistic tale the same intensity he gave to his 2007 international hit ghost story "The Orphanage". In the opening sequence, the Bennet family (changed for the film to be English) arrive at a swanky coastal resort in Thailand where their only concerns are to get the right room, maintain internet access, and find the nearest swimming pool.
As Sergio C. Sanchez's unfussy screenplay unfolds briskly, the director lets his camera peer out at the serene vastness of the ocean and as the resort's guests go about their idle routines, he places it out at sea from the point of view of an unimaginable monster that waits patiently before it strikes.
When it does, the scenes of devastation captured by cinematographer Oscar Faura are overwhelming as huge buildings crash down in a flash, and people and things are swept into an unpredictable and horrifying current. Composer Fernando Velazquez's nimble score adds indelibly to the film's impact.
As broken steel, wood, glass and bodies rush past, Maria Bennet (Watts) is thrust underwater and only barely keeps an eye on eldest son Lucas (Tom Holland). Her husband Henry (McGregor) and the two younger sons Simon (Oaklee Pendergast) and Thomas (Samuel Joslin) were last seen playing ball in the pool area. Their fate must wait as Maria strives to join Lucas and get out of the water before the swirling terror erupts again.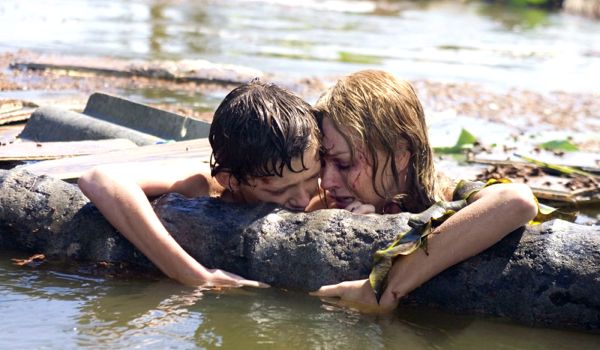 Watts and McGregor are bruised, battered and bleeding most of the time as they make their characters fully rounded to show abject fear, enormous courage and pitiful yearning in the face of unmitigated terror. Watts delivers another penetrating performance and McGregor has never been better and the vulnerability they both convey will put them in line for awards contention.
Holland also is terrific as a boy who at first appears selfish and uninterested but who grows calmer as the chaos expands and his responsibility grows. His performance is reminiscent of Christian Bale's in "Empire of the Sun" and it displays similar promise.
The opening scenes are incredibly realistic and breathtaking and things don't improve much for mother and son when they realise that Helen's leg is gashed badly and only the bravery and kindness of Thai locals, who have their own desperate concerns, make her survival a possibility.
When they make it to a makeshift and seriously over-burdened medical centre, the focus shifts to Henry, who has managed to keep the younger boys with him. Desperate to find his wife and Lucas, however, Henry lets Simon and Thomas be taken away with other lost children but that leads to further scary complications and the distraught father ends up in a desperate quest to locate his now completely dislocated family.
Director Bayona maintains a heightened sense of anguish and fear throughout the film as the dangers of the storm and its aftermath remain threatening, sharp edges and fire remain a constant threat, and to just find people becomes a nightmare. Maria, meanwhile, fights for her life.
Critics have suggested that the focus on a Western family is a disservice to the Thai population, but it is a true story and the unpleasant fate of the locals is made clear. The combination of location filming and work in a large water tank blends seamlessly and with Eugenio Caballero's superior production design, the film is never less than credible and unforgettably intense.
Opens: UK: Jan. 1, eOne / US: Dec. 21, Summit Entertainment; Cast: Naomi Watts, Ewan McGregor, Tom Holland, Samuel Joslin, Oaklee Pendergast, Marta Etura, Sonke Mohring, Geraldine Chaplin; Director: Juan Antonio Bayona; Screenwriter: Sergio G. Sanchez; Producers: Belen Atienza, Alvaro Augustin, Enrique Lopez-Lavigne, Ghislain Barrois; Director of photography: Oscar Faura; Production designer: Eugenio Caballero; Music: Fernando Velazquez; Costumes: Anna Bingemann, Sparka Lee Hall, Maria Reyos; Editors: Elena Ruiz, Bernat Vilaplana; Executive producer: Javier Ugarte; Production: Apaches Entertainment production in association with Telecinco Cinema, La Trini, Canal Plus; Rating: UK: 12A / US: PG-13, 107 minutes.