Helen Mirren was awarded with Critics' Circle's 2006 Award for Distinguished Service to the Arts at a lunch at the National Theatre on April 11.
The star of the film "The Queen" and TV's "Elizabeth I"has already won the Oscar, BAFTA, Golden Globe and Emmy awards and many more but David Gritten, Daily Telegraph film critic and chairman of the film section, noted at the ceremony, the critics'  decision to honour her was made before all the others last November.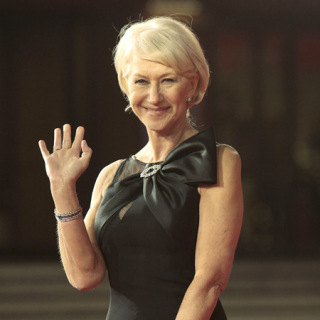 An engraved crystal rose bowl went along with the award, which Mirren said was the most decorative and useful of the trophies she's won this season: "I do think that awards should be useful and I especially love this one because it comes from you beady-eyed lot. I suspect it might be the last award I will win in my life. It has been a most incredible year, completely unexpected."
Previous winners of the Critics' Circle award have included Peter Hall, Judy Dench, Harold Pinter, Ian McKellen and Alan Bennett. Mirren pooh-poohed the notion that she was distinguished and said she didn't think of herself as a Dame, although she has received the Queen's honour. Rather than provide "services to the arts," she said she had just done her job in order to pay the heating bills and the mortgage.
Mirren's upcoming films include Iain Softley's "Inkheart" costarring Brendan Fraser, Jon Turteltaub's "National Treasure: Book of Secrets" starring Nicolas Cage, and Jon Amiel's "Angel Makers" costarring John Hurt.
She said, "I am just an actress and every word that comes out of my mouth – except for naff speeches – has been given to me by great writers. The roles were given to me by dozens of great writers, so I thank those who have given me the work I have been able to do. And I thank you all for this lovely award. Thank you guys."