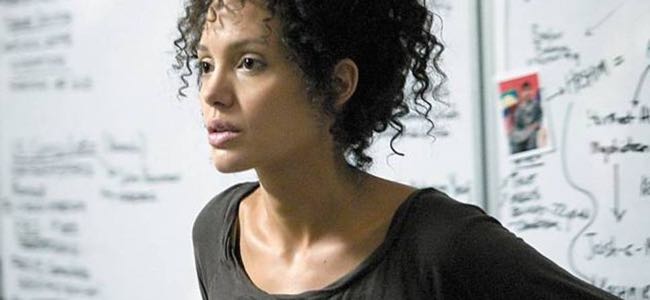 By Ray Bennett
The U.K. Film Council has put on a brave face in reaction to the news that not one British movie will be shown In Competition or in the Un Certain Regard sidebar at the Festival de Cannes in May.
The Council reminded everyone that last year Ken Loach's "The Wind That Shakes the Barley" picked up the Palme d'Or and Andrea Arnold's "Red Road" snagged the Jury Prize and declared with a straight face: "This year British talent has a starring role in deciding the winners."
Which is to say that director Stephen Frears, who has been nominated for the Golden Palm twice – for "The Van" in 1996 and "Prick Up Your Ears" in 1987 – will be president of the Competition jury.
The single British feature on show at Cannes, Out of Competition, will be Michael Winterbottom's "A Mighty Heart," starring Angelina Jolie (pictured) as a woman who searches in Pakistan for her missing journalist husband.
Hollywood movies dominate the official selection for the festival with five titles to be screened In Competition. Joel and Ethan Coen's "No Country for Old Men" is a saga of drugs and violence near the Mexican border with Josh Brolin, Tommy Lee Jones, Kelly Macdonald and Javier Bardem. David Fincher's serial killer saga "Zodiac" stars Jake Gyllenhaal (below), Mark Ruffalo and Robert Downey Jr.
James Gray's New York crime story "We Own the Night," stars Joaquin Phoenix, Mark Wahlberg and Eva Mendes. Gus Van Sant's "Paranoid Park" is a story about a kid on a skateboard who kills a security guard accidentally. Quentin Tarentino's "Death Proof" starring Kurt Russell will be split off from the U.S. double-bill release with "Grindhouse" as a stand-alone feature with some 10-15 more minutes of mayhem. Steven Soderbergh's "Ocean's 13", starring Brad Pitt, George Clooney and Matt Damon, also will screen Out of Competition.
There are no German films In Competition either although Robert Thalheim's drama "Am Ende Kommen Touristen" is in Un Certain Regard. Also absent from the Competition are any films from South America and there are only two Asian movies competing – Lee Chang-Dong "Secret Sunshine" from South Korea and Naomi Kawase's "Mogari No Mori" from Japan — although Wong Kar Wai's first English-language picture "My Blueberry Nights" from Hong Kong screens on opening night.
France and Italy are well represented in the two top sections and there are two Russian films In Competition. Canadian Denys Arcand's "The Age of Darkness," with Diane Kruger starring with Jean-Marc Leblanc who plays a civil servant who does a Walter Mitty, screens on closing night. The Festival de Cannes runs May 16-27.