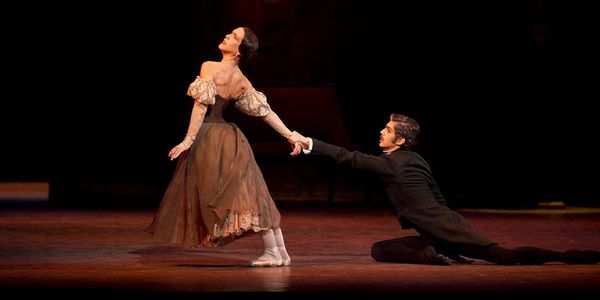 By Ray Bennett
When the BBC's new Director General, Tony Hall, takes up the job in April, the broadcaster will get not only a former BBC News Chief Executive but also the man who has brought financial stability to one of the UK's most complex arts institutions, the Royal Opera House.
His term since 2001 has included the ROH's successful move into live cinema screenings of its opera and ballet productions across the country and around the world including the first opera screenings in 3D. In 2007, Hall oversaw the acquisition of DVD production and distribution company Opus Arte. As a result, it has produced a series of DVDs of its productions and those of other arts organizations using high definition technology.
The current season continues with new opera director Kasper Holten's Covent Garden directorial debut, a new production of Tchaikovsky's poignant opera "Eugene Onegin" (pictured, in cinemas Feb. 20); Verdi's "Nabucco" with Placido Domingo (April 29), Rossini's "La Donna del Lago" (May 27) and Britten's "Gloriana" (June 24). Ballets include "Alice's Adventures in Wonderland" (March 28).
The season was given a big launch event in London and Hall says the live cinema season has become increasingly important to the arts organisation: "Cinema in the last 18 months has been absolutely core to what we want to do at the Royal Opera House, we want to take great artists, great art to as many people as we can."
In a bid to drive awareness of the season, the ROH held similar launch events at other UK cities, Manchester, Leeds, Glasgow, Cardiff, Nottingham, Newcastle, Birmingham, Plymouth, Brighton and Cambridge. Hall says, "We want to make sure the message gets across that, wherever you live, this is absolutely for you. Not just at the opera house but around the country and around the world. That is really important."
ROH Enterprises Managing Director Alastair Roberts says the departing CEO has masterminded most of the innovations at the Opera House: "That's been a really cool part of Hall's strategy, to open it up and to build audiences and to get an international profile. Within that, cinema and DVD are really powerful ways to reach audiences. Also, in the current climate it is important to generate new revenue streams and both the cinema and video bring lots of audiences and added revenue. Tony was the architect of all that."
The ROH stages about 30 productions each year and films about 12 of them with opera slightly ahead of ballet although close to 50/50. It shoots three more for free distribution across its chain of big screens around the nation. Cinemas in countries such as France, Germany, Brazil and Japan carry the films and the DVDs are distributed internationally with four titles now available as digital downloads on iTunes.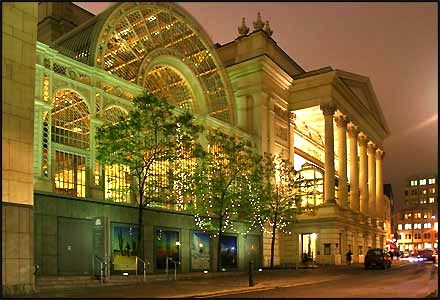 Roberts won't discuss budgets or sales but he says the most obvious titles such as "La Boheme", "La Traviata" sell "really well" as did Puccini's "Il Trittico" from last year. "Swan Lake" was the biggest ever in audience figures with well over 20,000 tickets sold for the one night and the "The Nutcracker" in December was right up there. "La Fille Mal Gardee" placed at No. 3 on the UK box office and it remained in the Top 10 in the week it screened while "Romeo and Juliet" was watched by 16,000 people in more than 150 cinemas in the UK.
"When you total it up, it's a major investment, but we think it's vital to win new audiences. We want to make people feel more comfortable with opera and ballet. We know some might find them difficult to engage with or they will be intimidated so we put it on a big screen for free and at the local cinema for £10 to break that down," Roberts says.
The ROH also is very active on Facebook and Twitter with more than 50,000 followers, he says: "At the interval, we encourage audience members to tweet to a hashtag and we put their tweets up on the screens so people see messages from all over the world from Brazil to Spain."
The 2011 cinema season, which comprised three ballets and seven operas, was broadcast to 700 cinemas in 22 countries, Hall says: "And 40% of our audience is under 45 — that is not a statistic you would expect from the Royal Opera House and the more we reach out the more audiences we will attract and that is good for the Royal Opera."
Roberts says the 2012/13 season will extend the company's reach beyond Britain even further: "Our international footprint is expanding more or less on a monthly basis. By the beginning of this season we are in about 32 countries, which takes us to a total of 900 sites around the world, so very close to the magic thousand mark."
This expansion is hugely important to the future of the Royal Opera House, according to Hall, who notes that while the Opera House is full every night, that is still just three-quarters of a million people each year: "Last year, we got a further 300,000 people watching us in cinemas; we got tens of thousands of people watching us for nothing through our BP Big Screens; we had over a million people watching us live and then recorded on playback when the Royal Ballet decided to throw open the Royal Ballet for a day; we had 4.5 million watching us on 'Maestro at the Opera' — in total around 7.5 million watching us in various forms of broadcast in this country and around the world. That is one hell of an impact from an opera house in the middle of Covent Garden."
In addition to the commercial aspect, Hall says the cinema screenings have transformed the way people view opera, "The other thing that people love is that you go back stage, you learn a little bit about the artist you are going to see, you learn a little bit more about the characters, you learn something about the background to the piece, and all these things add, I think, to the enjoyment that I see when I go to watch what we are doing in the cinema."
ROH Music Director Antonio Pappano says the cinema offers something the theatre does not: "It offers you the close-up and it offers you a complexity of experience that is quite wonderful and I think it is very rich and very, very compelling."
Royal Ballet Principal Edward Watson says the cinema provides a more animated audience experience: "In the theatre people are quieter, in the cinema they are laughing and chatting and they can talk to the person next to them."
ROH Director Holten notes that close-ups show the extremes of performance: "When a singer sings a high C it is not beautiful, it is extreme. I love that because it reminds me about how opera is an extreme art form that gives us a language to talk about all the extreme things of life, love death, fear, jealousy."
Royal Ballet Principal Federico Bonelli agrees: "It is almost as if you were sitting high up in the 'gods' and in the stalls at the same time, so you can see both perspectives. You can see the whole company altogether in the ensemble scenes and then you are really close up in the 'Pas de Deux'. It is the best seat in the house."
Sam Andrews contributed to this story, which appeared in Cue Entertainment.