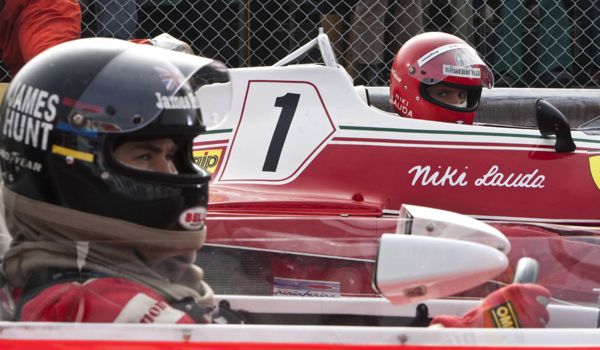 By Ray Bennett
LONDON – Although car chases are the backbone of most action adventure movies, few Hollywood directors have braved the circuits of real racing but now Ron Howard steps up with "Rush".
Due in the UK from StudioCanal on Sept. 13, it's the first blockbuster to deal with the globally popular Formula One circuit since John Frankenheimer's epic attempt in 1966 with "Grand Prix" (Warner Home Video) starring James Garner. That was a multi- national affair with plenty of cinematic tricks including multiple screens and some mushy romance but the film has become much loved by F1 fans for its depiction of the sport even though the director used F3 cars in order to bear the weight of the cameras of the day.
Ron Howard, who has two Oscars as director and co-producer of "A Beautiful Mind", has no such problems today and the trailer for "Rush" suggests that the combination of real stunt action and computer generated images will make it highly entertaining.
Bafta-winning writer Peter Morgan ("The Last King of Scotland", "The Queen") who adapted his own play "Frost/Nixon" for the film version that Howard directed, wrote the script for "Rush", which deals with the fierce rivalry between two F1 racers in 1976.
Austrian perfectionist Niki Lauda reigned as World Champion for Ferrari in a season that saw playboy English driver James Hunt push his McLaren to a fight to the finish. The film explores the contrast in their approach to racing, their personality clash, love affairs, and deadly competition.
In a behind-the-scenes clip online, the director says he wanted to make the film because it was based on a true story. Howard says: "It's the really, truly entertaining nature of these two guys. The way they went about the business of trying to be great was fascinating."
Australian actor Chris Hemsworth ("Thor") plays the blond, flamboyant womanising Hunt while Spanish-German Daniel Bruhl, who has starred in films such as "The Edukators", "The Bourne Ultimatum" and "Inglourious Basterds", plays the studiously obsessed Lauda. Howard says: "Their story is so remarkable that you could only do it if it was true because people wouldn't quite believe it. They were willing to risk their lives to obtain this elite status. They paid a price for it but they defined themselves."
Olivia Wilde ("House"), Alexandra Maria Lara ("Control"), Stephen Langan ("Episodes") and Christian McKay ("Me and Orson Welles") co-star in the film with music by Hans Zimmer ("Inception").
Shot on actual racing circuits in England and Germany, the film uses vintage cars and replicas. The director tells SpeedTV that the challenge for filmmakers was the need for technology to come along to make everything appear authentic: "To recreate those tracks in 1976, that's where we used our computer generating stuff. But there's still a hell of a lot of driving in our movie and I was relieved when we finally wrapped because I tried to get the audience into the action, which meant putting the actors and the stunt people into the action. We had a couple of near misses but everybody was fine and I felt we'd serviced the needs of the movie."
To recreate the incident at the old Nurburgring track in Germany in which Lauda's car smashed and caught fire, Howard tells SpeedTV that while original film of the crash was limited, it was helpful: "We did rely on that footage. Niki couldn't remember a whole lot, but we broke it down and tried to understand what the physics were and we actually filmed at that corner on the old track at Nurburgring, which was amazing. Then, in order to really put the audience in the middle of that horrific moment, we used every trick in the book."
Howard tells Entertainment Weekly the experience was like a cross between his earlier films, the space story "Apollo 13" and firefighting tale "Backdraft". He says, "In the case of 'Apollo 13', that's for the complexity and the authenticity and the intent to capture an era and an endeavor that blends technology, action and danger. But, then speaking of danger, it reminds me of 'Backdraft' because those fires scared me and so did shooting racing action in this film."
Formula One is not as popular in the US as it is around the world and previous pictures that have involved professional racers have veered towards US tracks although Steve McQueen's "Le Mans" (1971, Paramount Home Entertainment) deals with the famous 24-hour endurance race in France.
Paul Newman starred in "Winning" (1969, Universal Pictures UK), about the Indy 500 but otherwise they focus on stock-car or hot-rod racing such as Jeff Bridges in "The Last American Hero" (1973, Second Sight), Burt Reynolds in "Stroker Ace" (1983, WHV), Bonnie Bedelia in "Heart Like a Wheel" (1983, Starz/Anchor Bay), Tom Cruise in "Days of Thunder" (1990, PHE), and Sylvester Stallone in "Driven" (2001, WHV).
Howard says that he was not a fan of motorsport until he made "Rush". He tells SpeedTV: "If you understand and love Formula One, I want you to appreciate the movie and think we did a good job with it. If you don't know anything about it, you're going to realise what you've been missing. That's what I've discovered, the non-motorsport fan coming in and making this movie, and that's what I want to convey."
He has gone to great lengths to get out his message including appearances at the American Film Market, the Monaco Grand Prix and the BBC's car show "Top Gear". But he tells SpeedTV it's not just about racing: "Peter Morgan had known Niki Lauda for some
years and he began to learn about these two very different champions. He began to feel there could be something there emotional, interesting, surprising, even funny but also action-packed and intense. It has great acting opportunities, and there's real human stuff going on, drama, comedy, all authentic and visually great."
This story appeared in Cue Entertainment.