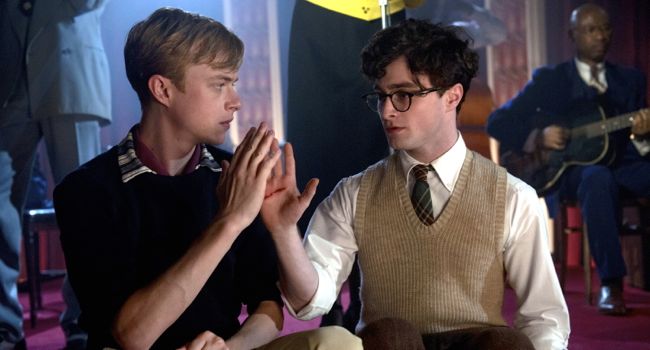 By Ray Bennett
TORONTO – Poetry and poets have seldom fared well in movies and "Kill Your Darlings", in which Daniel Radcliffe plays "Howl" creator Allen Ginsberg as a young man, is no exception.
Directed by New York filmmaker John Krokidas, who graduated from short films, the movie tells of the murder of a man who becomes obsessed with a contemporary of Ginsberg named Lucien Carr, played by Dane DeHaan (pictured above with Radcliffe). The two are among the Beat writers of the time, who included William Burroughs (Ben Foster) and Jack Kerouac (Jack Huston).
They are all completely self-involved and arrogant as they stumble to find their voices and figure out their sexuality. As the time was 1944, when the world was in violent turmoil, their insularity appears to be even more precious and their utterances pompous.
Radcliffe is a gifted young actor but he appears to choose his roles now according to their ability to help establish that he is no longer Harry Potter. This one includes a nude sex scene with another man.
It's all a bit overheated and underwhelming although Michael C. Hall is typically creepy as the obsessed man and DeHaan continues to stake his claim as a new Anthony Perkins, all fey fragility and inner rage.
His character is more interesting than Ginsberg as he has a sense of his own ability to use his androgynous appeal to manipulate people on top of an understanding that even though he cannot write, words can have an impact beyond their original intent.
Elisabeth Olsen as Kerouac's girlfriend and Kyra Sedgwick as Lucien's mother, unfortunately, have little to do. Nico Muhly's score conveys the period in counterpoint to recordings from a much later era from bands such as TV On the Radio and the Libertines.
The beats come across more like twats, however, as they break into the Columbia University library at night to replace staid classics on display with contentious and erotic works by James Joyce, D.H. Lawrence and Henry Miller. It just seems silly.
Venue: Toronto International Film Festival
Opens: UK: Nov. 8 (The Works); US: Oct. 16 (Sony Pictures Classics)
Cast: Daniel Radcliffe, Dane DeHaan, Michael C. Hall, Jack Huston, Ben Foster, David Cross, Jennifer Jason Leigh, Elizabeth Olsen, Kyra Sedgwick, John Cullum, David Rasche; Director: John Krokidas; Screenwriters: John Krokidas, Austin Bunn; Director of photography: Reed Morano; Production designer: Stephen Carter; Music: Nico Muhly; Costumes: Christopher Peterson; Editor: Brian Kates; Producers: Michael Benaroya, Christine Vachon, Rose Ganguzza; Executive producers, Joe Jenckes, Stefan Sonnenfield, Jared Ian Goldman, Pamela Koffler, Randy Manis; Production: Benaroya Pictures, Killer Films, in association with Sunny Field Entertainment. Rating: US R; 102 mins.