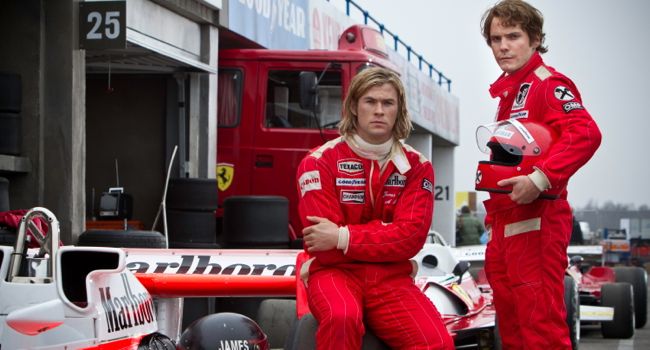 By Ray Bennett
TORONTO – Ron Howard's Formula 1 racing picture "Rush" is top-class entertainment as it relates the 1970s rivalry between two very different drivers with intense drama on and off the track.
Chris Hemsworth ("Thor") stars as charismatic English racer James Hunt whose competition in 1976 was as much with his own reckless personality as it was with the perfectionist World Champion Niki Lauda, played by Daniel Bruhl ("Goodbye Lenin").
The two were great friends in life but Peter Morgan's well-crafted screenplay presents them as fierce competitors whose determination to win sours their relationship in the paddock as well as behind the wheel.
The events of 1976 have been documented fully and are known well to F1 fans but Howard does a great job to make the story feel fresh and newcomers will be caught up immediately in the action and the drama.
There's plenty of racing as Anthony Dodd Mantle shoots the F1 circus in all its glamour and frenzy while the special and visual effects team recreate astonishing racing scenes including the fiery crash that almost cost Lauda his life. Howard also makes sure his audio crew captures the inimitably thrilling sounds of F1 motors.
There's lots of drama and laughter, too, as the film follows each driver's path towards their potentially deadly meeting in the championship season and Lauda goes through harrowing treatment to save his life.
Hemsworth has all of Hunt's posh English swagger as he consumes champagne, women and life in general and never reveals the effort and toll it takes.
Bruhl nails Lauda's stony perfectionism as the wealthy Austrian, having earned his spurs along with Hunt in Formula 3, buys his way onto the Ferrari team just as his rival lucks into a seat on the F1 circuit in a McLaren car. Hemsworth's Hunt is all blond good looks and flare while Bruhl's Lauda is fussy and precise with an overbite that causes his rival to name him "the rat".
The film also shows Lauda's subtle charm and there's a terrific scene in which he woos the beautiful woman (Alexandra Maria Lara) who became his wife after two Italian fans urge him to show off his driving skills. Hunt's personal life is littered with long-suffering but loyal friends, skittish rich backers, and lovely women including wife Suzy (Olivia Wilde).
With a pulsating score by Hans Zimmer, the film depicts the fun, drama and danger of a deadly sport and with two fine lead performances it shows why some men are willing to risk their lives in order to win.
Venue: Toronto International Film Festival; Opens: UK Sept. 13 (StudioCanal); US Sept. 20 (Universal); Cast: Chris Hemsworth, Daniel Bruhl, Olivia Wilde, Alexandra Maria Lara, Pierfrancesco Favino, David Calder, Natalie Dormer, Stephen Mangan, Christian McKay, Alistair Petrie; Director: Ron Howard; Screenwriter: Peter Morgan; Director of photography: Anthony Dod Mantle; Production designer: Mark Digby; Music: Hans Zimmer; Costume designer: Julian Day; Editors: Dan Hanley, Mike Hill; Producers: Andrew Eaton, Eric Fellner, Brian Oliver, Peter Morgan, Brian Grazer, Ron Howard; Executive producers: Guy East, Nigel Sinclair, Tobin Armbrust, Tim Bevan, Tyler Thompson, Todd Hallowell; Production: Revolution, Working Title, Imagine Entertainment; Rating: UK-15, US-R; 123 minutes.