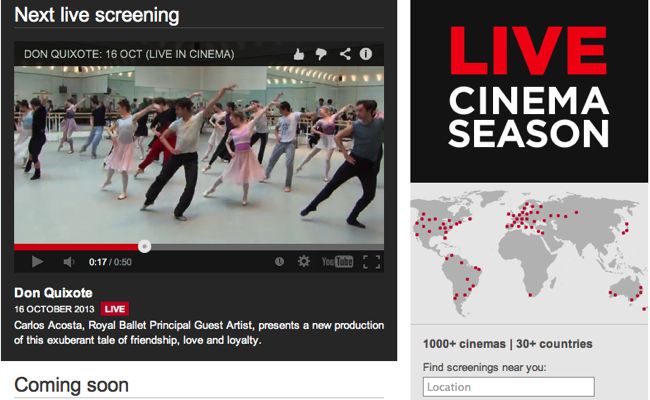 By Ray Bennett
The Royal Opera House announced 10 titles for its 2013/14 Live Cinema Season including five live ballets and five live operas.
The season opened this week with Puccini's "Turandot" starring American soprano Lise Lindstrom and the next performance to be made available from the Covent Garden stage to more than 1,000 cinemas across 40 countries will be a new production by principal guest artist Cuban ballet star Carlos Acosta of "Don Quixote" (Oct. 16).
Future titles include "Les Vêpres Siciliennes" (Nov. 4), Verdi's first 5-act opera written for the Paris Opéra; Tchaikovsky's "The Nutcracker" (Dec. 12); Wagner's "Parsifal" (Dec. 18); the ballet "Giselle" (Jan. 27); Mozart's "Don Giovanni" (Feb. 12); the ballet "The Sleeping Beauty" (March 19); Christopher Wheeldon's "The Royal Ballet" based on Shakespeare's "The Winter's Tale" (April 28); Puccini's "Manon Lescaut" (June 24).
The Royal Opera House said that its UK live cinema network has grown from 45 sites in September 2009 to 240 sites in October 2012 to make it one of the widest releases of alternative content in the cinema in the country.
The international network has grown from 120 sites in 12 countries in September 2009 to more than 1000 in September 2013, it said.
"The Nutcracker", broadcast live on Dec. 13, had an audience of more than 32,000 in the UK. It was the second highest grossing film that night between "The Hobbit: An Unexpected Journey" and "Skyfall" in the UK Box Office chart, the ROH said.
More than 33,000 people in the UK watched "La Bohème" on Jan. 15 2013 to make it the second highest grossing film that night, behind "Les Misérables" and ahead of "Gangster Squad".
The best performing broadcast to date was the Royal Ballet's "Alice's Adventures in Wonderland", which had a UK audience of 40,000 on March 28 and the most successful opera screening was "Nabucco" with Placido Domingo, which claimed a UK audience of almost 35,000 on April 29.
This story appeared in Cue Entertainment.