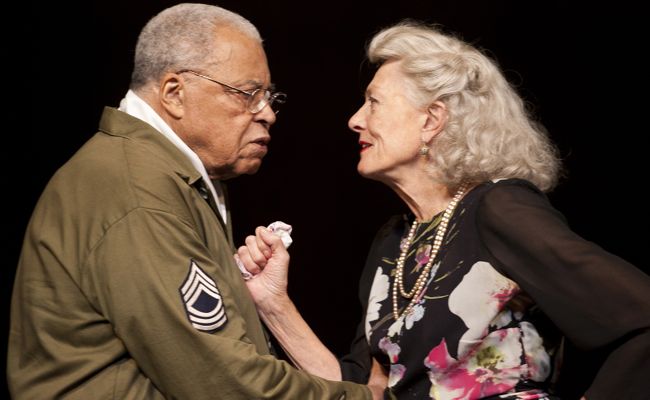 James Earl Jones and Vanessa Redgrave in 'Much Ado About Nothing' at the Old Vic through Nov. 30.
By Ray Bennett
LONDON – To cast a pair of old-timers – James Earl Jones, 82, and Vanessa Redgrave, 76 – as Benedick and Beatrice in "Much Ado About Nothing" is pure theatrical mischief.
It makes nonsense of some of the dialogue and the two great stars must pace themselves through the performance. They are sometimes hesitant and often swallow their lines.
The ploy has outraged London's posh theatre critics over the damage director Mark Rylance has done to the play with his effrontery. Michael Billington in the Guardian calls it "One of the most senseless Shakespearean productions I have seen in a long time." Charles Spencer in the Telegraph said: "Frankly, it's a relief when this laborious and misguided production grinds to a halt and everyone is still standing."
They have no sense of humour. It is stunt casting but it cannot be denied that also it is good fun. Jones might need to sit down whenever he can and he speeds up his speeches at times but then he slows to deliver a punchline with the best of them. Redgrave  has great energy and relishes her lines.
Beth Cooke and Lloyd Everett make a fine Hero and Claudio while James Garnon's Don Pedro and Sanny Lee Wynter's Don John have plenty of bite. Peter Wight impresses as a Dogberry who is actually amusing and also as a serious Friar Francis.
The problems are with the set and the staging. Rylance plants the tale in an English village in 1944 with Don Pedro, Benedick and the others as US soldiers. The play requires characters to hide a lot and overhear things they shouldn't but Ultz provides merely a large square box with front and back missing. It serves only to overwhelm the action. Mimi Jordan Sherin's lighting design is even more curious as scenes that take place in the dark with flashlights are lit fully.
The papers have already written off the production as a flop and there was a story that restaurants near the Old Vic have flourished due to theatregoers who leave at the interval.
Spoilsports.
Venue: The Old Vic (runs to Nov. 30). Cast: James Earl Jones, Vanessa Redgrave; Playwright: William Shakespeare; Director: Mark Rylance; Designer: Ultz; Lighting: Mimi Jordan Sherin; Music and associate director: Caire van Kampen; Sound: Emma Laxton.