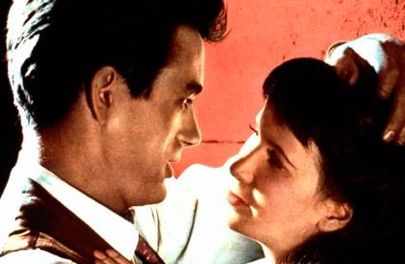 By Ray Bennett
Warner Home Video said it will release all three of James Dean's movies re-mastered for Blu-ray Disc in an "Ultimate Collector's Edition" on Oct. 28.
"East of Eden" (pictured with the late Julie Harris), "Rebel Without a Cause" and "Giant" will be on a limited and numbered 6-disc set along with three feature-length documentaries about the actor who died aged 24 in 1955, screen tests, wardrobe tests, commentaries and features on each film.
The documentaries are "James Dean Forever", narrated by Martin Sheen; "American Masters James Dean Sense Memories" and "George Stevens: A Filmmaker's Journey" about the director of "Giant".
Warner said that all three films were 4k restorations from original camera negatives at Warner Bros. Motion Picture Imaging (MPI): "Due to color fading, the original camera negatives could no longer yield an acceptable photochemical print."
For "Rebel Without a Cause", the stereo soundtrack was reconstructed from the magnetic soundtrack stripes of Cinemascope release prints. The film's restoration was done by Warner Bros. in collaboration with The Film Foundation with funding provided by Warner Bros., Gucci and The Film Foundation.
Packaged in a double-wide gift set, the collection contains a 48-page photo book with behind-the-scene images and insight into each film. The Ultimate Collector's Edition will be available for £34.99 RRP, WHV said.