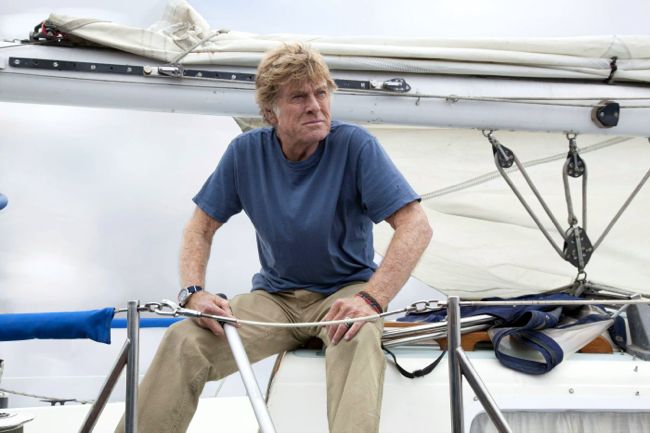 By Ray Bennett
Robert Redford gives a career-best performance as a man alone in peril aboard a sailing craft in the Indian Ocean in J. C. Chandor's first-class thriller "All Is Lost".
A voice-over at the start speaks of doom and regret in a message later written down and placed in a jar. The film flashes back to eight days earlier when the man awakens in the cabin of his sailboat to discover water flooding in from a hole made by a freight container that has fallen from a container ship.
With extraordinary intensity, the film relates the man's attempts to save his boat and himself. Some critics have suggested that it's like a Hemingway tale but it's not at all. Our man, as the film refers to him, is not in a macho battle with the sea, he is a supremely independent and confident man caught out by the elements much to his surprise.
No information about him is offered at first, he mentions no relations or friends in his message and while there are signs of comfort on the boat such as books, there are no photographs. He's no chatterbox; he does not speak to inanimate objects nor mutter to himself. Over the course of the film, however, his response to jeopardy, the manner in which he weighs up his options and makes decisions, his demeanour and actions all gradually paint a vivid portrait.
Redford did most of the stunts, according to the director, and his vigorous and nuanced performance will cause audiences to invest heavily in the man's fate. It will be no surprise if he wins his first acting Oscar.
The sustained tension cannot be overstated even in periods of stillness and occasional bits of grim humour. Since he's sailing alone in a small vessel on a vast ocean, clearly he's a man of no little self-regard. He usually knows what to do next as crisis piles on crisis but it's illuminating that while he has a sextant, it's still in its original water-proof container. He's brave and resourceful but he doesn't know fully how to employ a sea anchor or how flares work, so that when he reflects ruefully on his fate we know that his life has been marked by similar arrogance.
Cinematographers Frank G. DeMarco and Peter Zuccarini, production designer John P. Goldsmith and editor Pete Beaudreau make vivid contributions and Steve Boeddeker's evocative sound design is the source of some of the greatest moments of suspense. Composer Alex Ebert's score combines well with the sound mix and provides cues that hover gently in quiet times and soar when the often beautiful images call for it.
With just the fine Wall Street drama "Margin Call" to his credit, Chandor shows a grasp of pure filmmaking that will make for a lasting career although he'll need to go a long way to top "All Is Lost".
Opens: UK: Dec. 26 (Universal); Screened out of competition at the Festival de Cannes 2013 and the London Film Festival; Cast: Robert Redford; Director, screenwriter: J.C. Chandor; Director of photography: Frank G. DeMarco; Director of under water photography: Peter Zuccarini; Production designer: John P. Goldsmith; Music: Alex Ebert; Costume designer: Van Broughton Ramsey; Editor: Pete Beaudreau; Sound designer: Steve Boeddeker; Producers: Neal Dodson, Anna Gerb, Justin Nappi, Teddy Schwartzman; Executive producers: Cassian Elwes, Laura Rister, Glen Basner, Joshua Blum, Howard Cohen, Eric D'Arbeloff, Rob Barnum, Kevin Turen, Corey Moosa, Zachary Quinto Production: Before the Door Pictures, Washington Square Films; Rating: UK – 12A; running time 105 minutes.