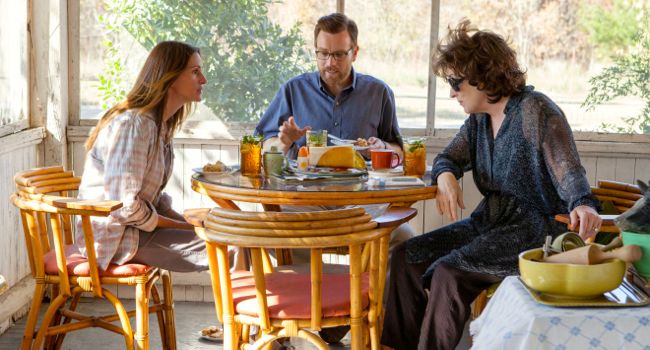 By Ray Bennett
TORONTO: At the start of "August: Osage County" an ageing poet and lifetime alcoholic leaves his family home to go drown in the lake and as the film goes on, the puzzle is why he hadn't done it sooner.
Meryl Streep and Julia Roberts head a large cast of accomplished actors as members of the dead man's family who proceed to tear each other apart even as they mourn. Tracy Letts's play of the same title won five Tony Awards in 2008 including the one for best play. Letts wrote the screenplay for the film directed by John Wells, known best as the longtime executive producer and occasional director of TV's "ER" and "The West Wing", but between them they've taken the pleasure out of it.
The play, which also was a London hit at the National Theatre, ran for three hours onstage where distance from the audience, theatricality and suspension of disbelief all worked in its favour.
Its depiction of vicious infighting amongst the women of a family raised in the harsh winters and searing summers of the American plains plus Letts's dialogue full of poison and invective allowed full-blooded performances. Also, it was very funny.
The movie, which runs for two hours, is not. In a voice-over as the film begins, poet Beverly Weston (Sam Shepard) describes a life of increased bitterness as his wife Violet (Streep) has surrendered to a limitless cocktail of prescription drugs and now battles oral cancer. He has hired a full-time care-person for her, a dignified and capable young Cheyenne (Misty Upham), as Violet's tantrums cut too much into his drinking time.
Upon his death, daughters Barbara (Roberts) and Karen (Juliette Lewis) arrive to be with their mother along with their sister Ivy (Julianne Nicholson), the only one to stay close to home. Barbara brings uptight husband Bill (Ewan McGregor, pictured with Roberts and Streep) and rebellious teenaged daughter Jean (Abigail Breslin) while Karen arrives with "this year's man", Steve, (Dermot Mulroney) a glib-talking salesman. Also on hand are Violet's talkative sister Fae (Margo Martindale), her quiet, indulgent husband Charles (Chris Cooper) and their sensitive son known to all as Little Charles (Benedict Cumberbatch).
The play aspired to be in the Tennessee Williams mould with a family torn asunder by mendacity and it worked because of the humour, pacing, colourful characters and big performances. The film is a relentless assault of unpleasant people most of whom are beastly to one another.
To steal from Ricky Gervais, they are deeply shallow and the lack of background information about the characters begins to grate. Even Gustavo Santaolalla's always pleasing music plays more to drama than to comedy. As the few laughs diminish, more questions arise. It's a pleasing thought that a poet could have funded such a household but difficult to imagine. What has Violet done all her life and why does she condemn Barbara for getting as far away as possible? When was the last time the younger members of an American family threw an older relative's uppers, downers and painkillers into the toilet?
Aside from a few car rides, the scenes all take place in the large rambling family home. The savagery commences almost at once as Violet has a bad word for everyone including her late husband. Barbara responds in kind but with a great many close-ups the clashes appear more stagey on film than in the theatre and pretty soon Streep and Roberts are in a claws-bared contest for the upper hand.
Before long, everyone is at it with developments including a stolen inheritance and sub-plots about Barbara and Bill's unhappy marriage, a love affair that smacks of incest, and a dubious incident in which the salesman and the teenager share a spliff. Unlike the wise poet, they all stick around for their punishment.
Venue: Toronto Film Festival (Gala Presentation); Opens: US: Jan 10 (The Weinstein Co.); UK: Jan 17 (Entertainment); Cast: Meryl Streep, Julia Roberts, Ewan McGregor, Chris Cooper, Abigail Breslin, Benedict Cumberbatch, Juliette Lewis, Margo Martindale, Dermot Mulroney, Julianne Nicholson, Sam Shepard, Misty Upham; Director: John Wells; Screenwriter: Tracy Letts, based on his play; Director of photography: Adriano Goldman; Production designer: David Gropman; Music: Gustavo Santaolalla; Costume designer: Cindy Evans; Editor: Stephen Mirrione; Producers: George Clooney, Grant Heslov, Jean Doumanian, Steve Traxler; Executive producers: Bob Weinstein, Harvey Weinstein, Ron Burkle, Claire Rudnick Polstein, Celia Costas, Jeffrey Richards, Jerry Frankel; Production: Jean Doumanian, Smokehouse Pictures, in association with Battle Mountain Films, Yucaipa Films; Rating: UK-15 / US-R; running time 121 minutes.