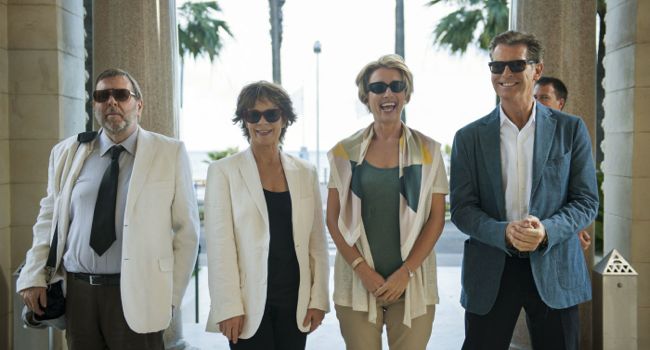 By Ray Bennett
TORONTO: An embarrassment for all concerned, "The Love Punch" is an irredeemably stupid concoction that aims to please the older crowd by showing middle-aged, middle-class people behaving as foolishly as possible.
Pierce Brosnan plays a businessman whose firm is stolen by a pernicious French financier for reasons and in a manner that no-one bothers to explain. Emma Thompson plays his wife who supposedly has just earned a Phd in something taxing but acts like a skittish schoolgirl.
When they learn that the Parisian swine who has their retirement money has lavished $10 million on a diamond for his trophy bride, they decide the only way to get their cash back is to steal the diamond. Of course they do.
With garrulously unpleasant best friends played by Timothy Spall and Celia Thompson, they hop it to the Côte d'Azur to pull off the heist. No real-life complication is too difficult for writer and director Joel Hopkins's witless screenplay to ignore totally as the four performers risk hard-won reputations on utter tripe.
It's hard to tell what Thompson in particular saw in this pathetic nonsense but she is as guilty as the others in lazy performances that do nothing to suggest anyone onscreen is having more of a laugh than the audience.
Venue: Toronto Film Festival (Gala Presentation); Opens: UK April 18 (eOne); Cast: Emma Thompson, Pierce Brosnan, Timothy Spall, Celia Imrie, Tuppence Middleton, Laurent Lafitte, Louise Bourgouin; Writer-Director: Joel Hopkins; Director of photography: Jerome Almeras; Production designer: Patrick Durand; Music: Jean-Michel Bernard; Costume designer: Patricia Colin; Editor: Susan Littenberg; Producers: Tim Perell, Nicola Usborne, Clement Miserez, Jean-Charles Levy; Executive producers: Thierry Desmichelle, Lionel Uzan, Matthieu Warter, Al Munteanu, Nicolas Manuel; Production companies: Process, Radar Films, The Love Punch Limited, SND Films; Rating: UK 12A; running time 94 minutes.