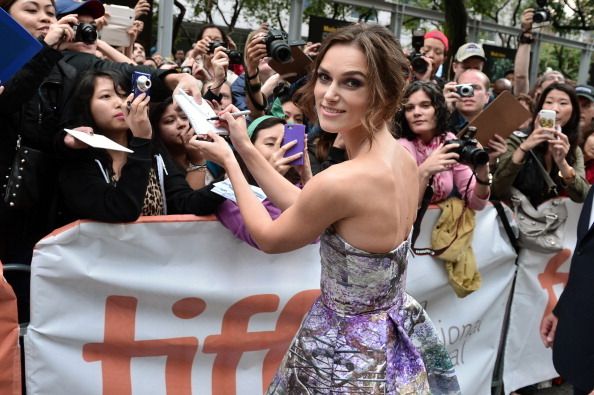 By Ray Bennett
TORONTO – The Toronto International Film Festival last month sometimes seemed more like the London International Film Festival with a steady parade of British films and filmmakers.
TIFF screened 288 feature films including 56 red carpet premieres and cemented its place as the biggest event that previews the movies that will fill cinemas and sell home entertainment through the next two quarters and beyond.
For the 36th year, Toronto audiences cast a ballot for their favourite festival film and the BlackBerry People's Choice Award went to British director Steve McQueen's "12 Years a Slave", which Entertainment One will release in the UK on Jan. 24. Based on the track record of previous Toronto favourites, the award immediately made the film the front-runner for this season's major awards including the Oscars and the Baftas.
Chiwetel Ejiofor plays Solomon Northup, a free black man from upstate New York who was kidnapped and sold into slavery in 1841. The cast also features Michael Fassbender, Benedict Cumberbatch, Paul Dano, Paul Giamati, Alfre Woodard and Brad Pitt, who also is a producer on the film.
Although the picture, based on a true story, was received well in Toronto, its depiction of the harshness of slavery did cause some members of the public screening to leave but at a TIFF press conference, McQueen said: "Great! Certain things that speak to some people, [others] aren't going to sit through, just like a bad movie. But the vast majority there gave us a standing ovation so I just take heart from that, really."
In awarding the prize, TIFF said "The story is a triumphant tale of one man's courage and perseverance to reunite with his family that serves as an important historical and cultural marker in American history."
Stephen Frears's "Philomena" was the runner up in the public choice award with Canadian director Denis Villeneuve's "Prisoners" the second runner up. Judi Dench stars in "Philomena" as an Irish woman who spends a lifetime in search of the son she was forced to give up at a convent. The film received positive reviews in Toronto and will be in UK cinemas on Nov. 1 released by Pathé.
TIFF opened with Bill Condon's film about Wikileaks founder Julian Assange, "The Fifth Estate", due in the UK from Entertainment One on Oct. 11. Benedict Cumberbatch, who plays Assange, had a busy festival with "12 Years a Slave" and "August: Osage County", starring Meryl Streep and Julia Roberts, which Entertainment will release in the UK on Dec. 26. His "Fifth Estate" co-star Daniel Bruhl also had another picture at the festival, Ron Howard's racing film "Rush", which StudioCanal released in the UK last month.
British names at TIFF included Keira Knightley (pictured), whose film "Can a Song Save Your Life?" had what The Hollywood Reporter called "one of the splashiest sales" at the event. Harvey Weinstein won the race for US rights. She plays a young English songwriter stranded in New York with a broken heart when a down-and-out record producer played by Mark Ruffalo hears her sing. Both her singing and the film received good reviews.
Ralph Fiennes received acclaim for his second film as director, "The Invisible Woman", in which he plays Charles Dickens, and Felicity Jones won praise for her performance as the writer's mistress. Lionsgate will release it in the UK on Feb. 7.
Idris Elba's performance in the title role of "Mandela: Long Walk to Freedom", due from Twentieth Century Fox on Jan. 3, also was well received as was Colin Firth's in "The Railway Man", which Lionsgate will release in the UK on Jan. 3. Nicole Kidman stars opposite Firth in the true story of a man whose torture as a prisoner of the Japanese in World War II haunts him for years.
Jude Law was on hand for the premiere of "Dom Hemingway", in which he plays a tough London hoodlum. Lionsgate will release it in the UK on Nov. 15. Tom Hiddleston ("Thor") and Tilda Swinton made a splash as elegant vampires in "Only Lovers Left Alive", which Sony Classics picked up for the US and which will screen at the BFI London Film Festival this month. Emma Thompson and Pierce Brosnan also provided amusement in the caper comedy "Love Punch", which Entertainment One will release in the UK on Dec. 26.
British directors who garnered considerable attention at TIFF included Kevin Macdonald for his film "How I Live Now", due from Momentum Pictures on Oct. 4, Richard Ayoade for "The Double" and Jonathan Glazer for "Under the Skin", both films due from StudioCanal, and Roger Michell for "Le Weekend", due from Curzon Film on Oct. 11.
Saoirse Ronan stars in "How I Live Now" as a New York youngster in England at the outbreak of war. Jesse Eisenberg stars with Mia Waikowska in "The Double", which is based on the Fyodor Dostoevsky novel about a man who meets his doppelganger. Scarlett Johansson plays an alien with a difference in "Under the Skin" based on Michael Faber's eldritch novel. Jeff Goldblum, Lindsay Duncan and Jim Broadbent star in "Le Weekend", which tells of a couple who try to recreate their honeymoon in Paris after 30 years.
This story appears in the October 2013 edition of Cue Entertainment