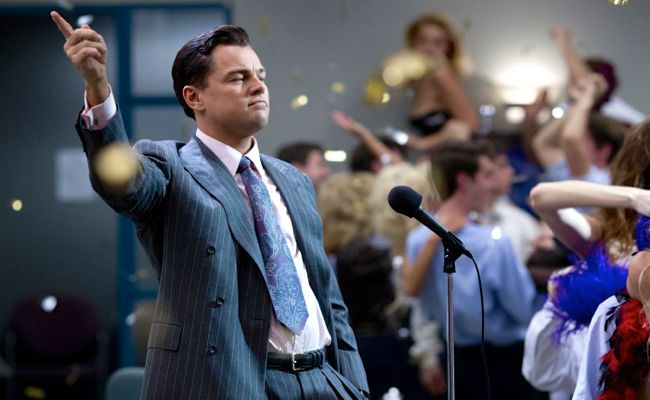 By Ray Bennett
LONDON – Martin Scorsese's "The Wolf of Wall Street" is a blend of "Wall Street" without the great speeches, "Caligula" with the decadence and the porn and "Scarface" with the drugs but without the machine guns.
It's a horror story about degenerate criminals who squander millions of dollars that they swindle from gullible Americans whose fate they and the filmmakers ignore completely.
There has never been an actor who can look as pleased with himself as Leonardo DiCaprio and he puts that gift at the service of a role that relishes every decadent indulgence of a sociopath who thrives in the bilious world of 1990s American banking. If you want to see him naked with a candle stuck in his bum, this is the film.
He plays Jordan Belfort, a snake-oil salesman who scammed a massive fortune through securities fraud and money laundering before he ratted out his accomplices, and then wrote a book about it all, upon which this film is based.
Scorsese and screenwriter Terence Winter use every trick to tell the tale as Belfort speaks directly to the camera and relates the ways in which he separates foolishly hopeful investors from their cash. It's a comedy if you think it's funny to watch unpleasant and moronically reckless thieves wallow in excesses of unsavoury sex and great volumes of drugs.
There's a scene in which Belfort has taken so many quaaludes that he can only crawl to his automobile outside a fancy club. It's funny if you think it's funny to watch a man completely paralytic go through contortions in order to get behind the wheel of a high-powered car so he can drive home.
"The Wolf of Wall Street" is another Scorsese gangster movie and the difference between him and a first-rate film artist such as Francis Ford Coppola is that Coppola views what happens to the gangsters in "The Godfather" as a tragedy. Scorsese sees what happens in his pictures as a celebration.
There's no question that his new movie displays vivid and bravura filmmaking and performers such as Jonah Hill, as Belfort's piggish partner, and Margot Robbie, as his oiled and golden trophy wife, make fine impressions.
To cast Joanna Lumley as a doting but still sexually attractive aunt from London seems like the saddest stunt casting, however. It supports the notion that Scorsese views the whole thing as a lark when the film should show some sign that its subject is pathetic and horrible.
Opens: UK: Jan. 17 (Universal Pictures); Cast: Leonardo DiCaprio, Jonah Hill, Margot Robbie, Matthew McConaughey, Kyle Chandler, Rob Reiner, Jon Bernthal, Jon Favreau, Jean Dujardin, Joanna Lumley; Directed by: Martin Scorsese; Screenwriter: Terence Winter, based on the book by Jordan Belfort; Director of photography: Rodrigo Prieto; Production designer: Bob Shaw; Music: Howard Shore; Costume designer: Sandy Powell; Editor: Thelma Schoonmaker; Producers: Martin Scorsese, Leonardo DiCaprio, Riza Aziz, Joey McFarland, Emma Tillinger Koskoff; Executive producers: Georgia Kacandes, Alexandra Milchan, Rick Yorn, Irwin Winkler, Danny Dimbort, Joel Gotler Production: Red Granite, Appian Way, Sikelina, Emjay Productions; Rating: 18; running time 179 minutes.