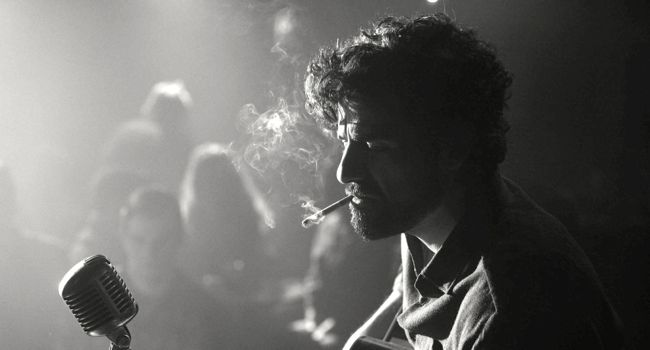 By Ray Bennett
LONDON – In the 1960s, the sign that it was time to leave a party was when the humourless bloke with the beard pulled out his guitar. The Coen Bros. make that guy the focus of "Inside Llewyn Davis" and the impulse to leave remains the same.
Oscar Isaac plays the title role of a dull and charmless but pushy 1960s folk singer exactly like the performer played by Neil Innes in "The Rutles" who says before a song: "I've suffered for my music … now it's your turn."
Written and directed by the Coen Bros., the film follows Davis as he plods gloomily about the New York folk scene with the bemused expression of a man puzzled and rather annoyed that his performances are met with universal indifference.
He has unpleasant encounters with an ex-lover (Carey Mulligan), club owners and former partners, and there's an interlude in which he hitchhikes to Chicago so that the Coens can create the role of a jaded raconteur for John Goodman, who spouts sour cynicism from the back seat of a car.
Davis inflicts his painful repertoire – there's a number titled "Hang me, oh, hang me" – on anyone unable to leave quickly including his very ill father who must suffer in silence in his hospital bed.
It's hard to tell if the Coens intend "Inside Llewyn Davis" as drama or comedy since it fails to move or to amuse. Their tortured hero is so out of touch with real life that when he lets a cat out of an apartment, he chases it and carries it about with him.
If he'd learned that cats can look after themselves then he might have written a song worth listening to. Sadly not.
Venue: Opens: UK Jan. 24 (StudioCanal); Cast: Oscar Isaac, Carey Mulligan, Justin Timberlake, John Goodman, Garrett Hedlund, F. Murray Abraham; Directors and screenwriters: Joel Coen, Ethan Coen; Director of photography: Bruno Delbonnel Production designer: Jess Gonchor; Costume designer: Mary Zophres; Editor: Roderick James; Producers: Scott Rudin, Ethan Coen, Joel Coen; Executive producers: Robert Graf, Olivier Courson, Ron Halperin; Executive music producer: T Bone Burnett; Production: StudioCanal; Rating: UK 15, running time:105 minutes.